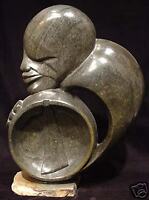 A GUIDE TO SHONA STONE SCULPTURE
In the field of contemporary African arts, Shona stone sculpture is renowned for aesthetic quality, for showcasing individual artists, and for international availability of excellent pieces. Carved from the stone native to Zimbabwe commonly serpentine, and occasionally "verdite" these sculptures range widely in size, style, subject, and price. Usually, items that cost below $100 are craft-grade works, often produced by apprentices. Many fine pieces are available for less than $1000. Above that price are the art-grade pieces, the best of which rank with the greatest sculpture ever created. Shona stone sculptures grace private homes, corporate spaces, and museums throughout the world.
The History of Shona Stone Sculpture: In one sense, its history begins about seven hundred years ago, when the Shona people built large, complex stone palaces and fortifications. The best-known of these is Great Zimbabwe, located north of the Limpopo River in the traditional Shona homeland. Not only do these ruins evidence technically sophisticated stone masonry (to the extent that Europeans refused to believe they were constructed by Black Africans, preferring to fabricate myths about white civilizations); they also have yielded a number of powerful stone sculptures, usually of birds. Contemporary Shona sculpture thus can claim a distinguished and ancient artistic ancestry.
In another sense, its history begins in 1957, when a British art expert, Frank McEwen, was named director of the National Gallery of Rhodesia (now the Republic of Zimbabwe), located in the capital city of Salisbury (now Harare). After deciding to house an art workshop inside the museum, he changed its emphasis from painting to sculpture in order to revive the legacy of Shona arts and to train a new generation of local artists, some of whom were not Shona but migrants from other areas of Southern Africa. McEwen encouraged students to express their vision in stone without imitating European models, resorting to folkloric tribal motifs, or reproducing the soapstone tourist curios prevalent during the 1950s. Despite their tendency toward abstraction and minimalism, many works from the Gallery studio embody the spiritual beliefs of the Shona people, who account for 80% of Zimbabwe's population.
In the late 1960s, a similar workshop was established in the rural Tengenenge community, which ultimately grew to become a village of sculptors. The founding father of Tengenenge was Tom Blomefield, a white tobacco farmer concerned that the civil unrest and economic hardships accompanying Rhodesia's shifting political status made it increasingly difficult to pay his farm workers. Without any background in the arts but with the advantage of large serpentine rock deposits in his land, Blomefield urged his employees to try their hands at stone carving. Their sculptures quickly gained respect and a market. Tengenenge was even supported by McEwen and the National Gallery, at least until he founded a rural art community of his own. Eventually, some artists moved to Harare and developed their own ateliers, where younger sculptors learned their craft. Living in Zimbabwe's capital city also provided proximity to the marketing and shipping networks upon which international trade depends. But the Tengenenge art community is still in existence, and still producing wonderful sculpture.
Presently, Zimbabwean sculptors are located throughout the country as well as in Harare, some working in art cooperatives and others working alone. Most use chisels, hammers, rasps, and punches, if they can afford these tools, although some sculptors make their own carving implements from scrap metal and an affluent few employ power tools. After the stone is carved and shaped, it is hand-sanded and polished, a process often including firing and waxing. Contemporary sculptors keep inventing variations of traditional techniques, just as they experiment with new types of stone and subject matter. Such improvisation makes Shona stone sculpture a dynamic, vital art form that responds creatively to changes in material and social environments.
Why Should I Buy a Shona Stone Sculpture? The first rule of any art purchase is: love what you are buying. The polished modern forms, the virtuoso carving, and the beauty of the stone allow these pieces to represent people, animals, plants, and social values with emotional expressiveness and aesthetic elegance. These qualities can be extremely appealing, and they allow the sculptures to exist harmoniously in many architectural contexts and to complement many styles of interior design. As a side note, owning Shona stone sculpture puts you in very good company. Fellow collectors include Queen Elizabeth II and the actor Danny Glover; pieces are part of the permanent collections of New York's Museum of Modern Art, Museum of Mankind in London, and the Rodin Museum in Paris.
Second, you will be buying an authentic contemporary artwork, not an assembly-line souvenir. In so doing, you will support Zimbabwean artists struggling against wretched political and economic conditions, as well as against the AIDS epidemic ravaging all of Southern Africa. Many exporters make direct purchases on site, rather than using the consignment system, so income is immediately available to the artist and the extended family that depends on him (Shona sculptors traditionally have been men; recently, women have begun carving and exhibiting).
Third, Shona stone sculpture is affordable. Craft-grade pieces are quite inexpensive, and fine pieces by "third generation" artists, currently living, are often less than $1000. If you compare these prices to those of most contemporary sculpture featured in art galleries, you'll see that Shona pieces are a real bargain. Of course, you may be able to purchase a work by one of the acknowledged masters, like Henry Munyaradzi or Nicholas Mukomberanwa, or to acquire a huge art-grade stone carving suitable for a large public or outdoor space. In these cases you'll be making a major investment in internationally recognized fine art, and the prices will increase significantly. Even these important artworks, however, are vastly less expensive than comparable pieces by Western artists.
How Do I Go About Buying Shona Stone Sculpture? Before you buy, do a little research. Examine various sources for this type of art so you get an overview of styles, represented subjects, artists, and prices. Learn about types of stone, as many varieties of serpentine go by different names, such as leopard rock, butter jade, springstone, and rapocco, each having distinctive colors and surface patterns. The internet is a great tool for such research, and visits to art galleries are always enjoyable activities. By learning more about Shona stone sculpture and its market, you will be able to select a piece that will bring you lasting pleasure.
You might want to steer clear of sculptural subjects that are repeated frequently, such as the ubiquitous family circle. Although Shona stone sculpture is made for export, the family circle pieces in particular are responses to market popularity and thus are sometimes produced quickly, carvers following a standard pattern rather than creating their own. On the other hand, the family circle motif is popular for a reason: it is stylishly sweet without being sentimental, and its use of negative space is visually exciting. If you like this sculptural subject, search for interesting variations on the theme.
Once you have familiarized yourself with the field of Shona sculpture and have made initial decisions about style, subject, and price, think about where you might place the sculpture in your home or office. Such planning will help with other decisions, like those concerning stone color and surface finish. For instance, a piece to be displayed in an illuminated curio cabinet will be viewed primarily from a fixed angle under stable light conditions, whereas a piece to be put on a glass coffee table will be seen from all angles and in both natural and artificial light. A sculpture with strong frontal orientation and uniform surface may be most appropriate for the cabinet, while a sculpture that draws your eyes around the entire form and exhibits tonal and textural contrasts may look best on the coffee table. You might also consider how the sculpture will blend with art objects and decorative items you already own, remembering that Shona pieces have a commanding visual presence, even when they are of a relatively small size.
Now the fun begins, as you visit (literally or electronically) your Shona stone sculpture sources and discover the perfect piece. You might even find ideas for gifts, as these exquisite, affordable artworks make splendid presents for special occasions and special friends.
References:
William Dewey, ed., Zimbabwe
Joceline Mawdsley, Joceline, Chapungu: The Stone Sculptures of Zimbabwe
Anthony and Laura Ponter, Spirits in Stone the New Face of African Art: The New Face of African Art
Oliver Sultan, Life in Stone
Zimbabwe Heritage, Contemporary Visual Arts
For more exciting shona stone sculptures, please visit our ebay store at Africa Direct
Images and text copyright Africa Direct, Inc. 2006