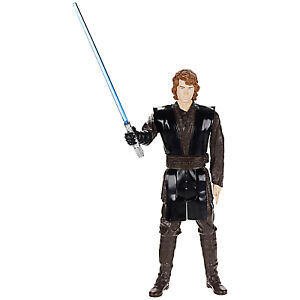 In 1964 the Hassenfeld Brothers - who renamed their company Hasbro in 1968 - came up with the idea for a pose-able, dress-able play toy designed for boys. The result, a 12-inch action figure by the name of GI Joe,, was a huge success. Today, children and adults alike enjoying collecting action figures, with coveted collectibles ranging from large, vintage G.I. Joes to the newest models.
Regardless of what line of action figures one collects, it is important to know some of the language that is commonly used to describe action figures-especially the terms that relate to the condition and pricing of vintage action figures. If you're looking to start or expand your collection, this guide will get you ready to shop with confidence. With some light planning and background information, you can be well on your way to finding the perfect addition to your personal fleet of action figures.
Discover Action Figure Milestones
The esteem in which given action figures are held is often related to different milestones in the history of these items. Following the original release of GI Joe, the action figure trend gained momentum for the next 12 years, a period during which many companies cashed in on the popularity of Hasbro's creation by developing other action figure brands for mass production. Mego,, for example, introduced a line of 8-inch models called World's Greatest Superheroes that featured popular characters from Marvel and DC comics.
The whole industry changed in 1977 when Kenner released its line of the 3 3/4-inch Star Wars action figures. The small size of these figures meant they were less flexible-but it also meant the toys could be offer at a low price point, making them for accessible for millions of children. The large variety of figures and accessories furthered these models' appeal; kids could recreate virtually any of their favorite scenes from the movie, which, at the time of its release, was an all but unprecedented box office and cultural phenomenon. The success of the 3 3/4-inch Star Wars toys revolutionized the way people thought about action figures, and this smaller size soon became the new standard.
With the relaxing of an FCC regulation in the early 1980s that prevented toy companies from developing children's programming, an explosion of toy lines with TV show tie-ins hit the market. Mattel was the first company to take advantage of this deregulation, with its He-Man and the Masters of the Universe line. The figures were slightly larger, and many incorporated features such as cap firing, a swivel waist, and other mechanical abilities. The Transformers soon followed suit, with incredible success. This franchise - which has grown to include not only multiple toy lines but also major products in virtually every media form - followed the adventures of robots that could transform themselves into planes, cars, and radios, among other things. These die-cast toys were more than double the cost of most other action figures, but with action figure mania in full swing, Transformers nonetheless flew off shelves. As action figures continued to gain popularity, the toy industry continued to create new toys, many with accompanying television shows. The Teenage Mutant Ninja Turtles,, for example, became a dominant brand during the 1990s. Not every effort was successful, and many popular brands experience periods of decreased popularity. Nonetheless, the huge cultural impact of action figures continues to this day, and shows no signs of stopping.
Today, many action figure lines include special edition toys - or collector's editions, as they are also called - that promote the collector's market. Toy designers have also come to create figures that cannot be posed. These models are called figurines, and are generally for display purposes only.
Collecting Action Figures
With dozens of different themes and storylines, and thousands of characters and character variations, the supply of new and old action figures is endless. To avoid becoming overwhelmed by this extensive variety, collectors should decide what type of action figures they want before making any purchases. Otherwise, they risk ending up with an array of unrelated figures that simply take up valuable space. Even if an action figure is purchased to be a child's toy, it is still a good idea to stick with one or two themes to keep the collection under control.
If you are collecting action figures with the hope they will increase in value over time, you will need to be more careful about the care and upkeep of your figures. Be sure to keep your purchase records in order and keep up with the latest trends and developments in your chosen brand. The community of action figure collectors on the Internet is active and large, making it easy to research given collectibles. Online marketplaces such as eBay also offer convenient ways not only to make purchases but also to research items and compare prices. To take full use command of the market, one should get to know the specialized terms that help collectors organize their figures and collections.
Learn the Language of Action Figures
When shopping for action figures, one must be aware that the market value for specific items fluctuates. Consequently, it is important to understand how sellers and collectors define and describe value. Whether you are hoping to start a collection of vintage action figures or are just in the market for a few new toys for your child, knowledge of the terms commonly used to describe action figures will help you to make a satisfying purchase. Similarly, an understanding the rating scales associated with the condition of action figures will ensure that you secure fair prices.
Terms Used to Describe Action Figures
Prices for new or vintage action figures vary depending on popularity, condition, and availability. New action figures are usually under $12, but a pristine, vintage figure in its original package can easily fetch more than $100. Value and price are not synonymous in the action figure world. Before paying a large sum for something priced as a collectible, it is important that one consult price books or online pricing guides to be sure of the toy's market value.
Vintage action figures are considered collectibles if they are in high demand and low supply. Supply and demand are important considerations that one must always take into account, as some branding efforts can inflate the perceived collectability of a modestly popular model. New action figures that are sold as limited editions, for example, are not produced in large quantities. The low supply can be used to markets these toys as collectibles if there is enough demand, but often manufacturers use this label on action figures which aren't expected to sell well. In a related vein, large retailers commonly sell exclusive figures-i.e. models that are made exclusively for, and only available at, their stores. Semi-exclusives are offered at more than one retail chain, but only at one particular chain in a given geographical region.
Some action figures are sold as mail-in premiums. To purchase these figures, one has to clip and send in proofs of purchase, or "points" accrued through purchases. Sometimes, the clippings alone entitle one to a new action figure; often, the clips have to be accompanied by a small fee. After the manufacturer has received the requisite mail-in items, the selected action figure is mailed to the buyer. Some of these figures have become increasingly rare, meaning that certain mail-in models fetch high prices on the used market.
Occasionally a mistake is noted after an action figure has reached the stores. If this happens, the figure is pulled, fixed, and reissued. Any models already sold are known as variations and have the potential to become valuable collector's items due to their limited production. Prototypes, meanwhile, are some of the hardest models to come by and often command the highest prices. Prototypes are factory-only action figures, made to assist development and marketing staffs. These designs never go into production. One of the most famous prototypes is the Boba Fett model with a firing rocket pack, from the Star Wars toy line.
If you are searching listings for a specific action figure, you will come across a host of acronyms used to describe the condition of the action figure, and its packaging or lack of packaging. HTF means a particular figure is considered hard to find. The acronyms MIB (mint in box), MIP (mint in package), and NRFB (never removed from package) are different ways of stating the action figure was never removed from its original packaging and is in mint condition. MNB (mint, no box) means that although the toy is in excellent condition, it is not in the original packaging. If a figure still has all its original accessories and has never been repainted or repaired, the abbreviation A/O (all original) is used to describe it. The term NM (near mint) can be subjective but generally implies that there may some minor, unnoticeable damage to the toy or its box.
Rating Scales
There are two main scales used to judge the condition of collector-level action figures. One is called the Cosgrove "C" scale and the second is the Action Figure Authority (AFA) scale. The Cosgrove scale is frequently used by average toy collectors and isn't as standardized as the AFA scale. The AFA scale is used by a staff of professionals at the Action Figure Authority who have been trained to evaluate and authenticate action figures based on a percentage scale.
Cosgrove Scale
The Cosgrove scale (C-scale) is more subjective than the AFA scale, as it is simply a guideline used by everyday sellers and consumers to give detailed descriptions of any flaws and imperfections on an action figure or its package. The condition of the toy is rated on a scale of C1 to C9.5, with a C9 rating indicating excellent condition and a C1 rating indicating poor quality. Experienced graders will only give an item a C9.5 rating if it is in mint condition with no visible flaws; action figures in this condition are consequently quite rare.
Occasionally, buyers might come across an action figure rated C10, but this rating doesn't actually exist. Such a rating should be viewed with suspicion; the seller might not understand the standards for appraising collectibles-and it's possible that merchants who use this rating are trying to deceive naive customers. Figures with a C9 rating have minimal defects and are excellent collector-quality toys, so very few listings can justifiably claim better quality than this. Action figures with a C8 rating, the lowest collector-grade rating, have visible flaws but do not look worn. By most standards, action figures that are rated as C5 or C6 are in very good condition, but serious collectors might shy away from them because of rips and other apparent flaws. Such models are often collected for nostalgic value rather than as investments. Action figures with a rating of C5 or lower are of very poor quality. They usually have large parts missing and noticeably worn features. Often, figures given a C1 rating are unsuitable for parts, let alone as safe, functional playthings. Such toys are generally beneath even garage sale standards, and are often simply thrown away instead of sold.
Action Figure Authority (AFA) ratings
The Action Figure Authority is a private company that employs trained professionals who inspect, grade, and preserve action figures for consumers and collectors. The AFA scale for grading an action figure's condition is based on a percentage scale. AFA 100 ratings indicate that the action figure and its packaging are in virtually perfect condition. Like the C9.5 Cosgrove rating, a perfect AFA score represents an extraordinarily high standard. Consequently, toys listed in this condition are all but nonexistent. Even AFA 95 toys are extremely rare, and should be expected to have glossy cards and no discoloration. An AFA rating of 90 is fairly uncommon too, as only about 1% of graded action figures earn this mark. These high-quality toys generally contain only factory-made flaws, and, if rare, can draw high prices. AFA 85 action figures, meanwhile, might have slight fraying or apparent discoloration-but they are considered acceptable for display purposes. AFA 80 is the lowest top-level collector quality, and many serious buyers will shy away from models that are graded below this threshold. Good-quality AFA 75 action figures do not stand out as excellent figures but may be acceptable to those with less stringent standards. AFA 70 ratings indicate average collector-quality items. These models are very practical as children's toys, but discriminating collectors do not usually find them acceptable. AFA scores below 70 are considered safely beneath collectors' standards and should be purchases only for play or sentiment.
Although some collectors feel the AFA grading system is an unnecessary and expensive service, many collectors will pay more for a toy that has been graded and sealed by the AFA. Reports claim these toys have been auctioned off for several times more than their predicted market value. If you want to preserve some of your more valuable action figures, it may be worth it to pay for this service. That way, if you ever decide to sell your collection, you stand a better chance of profiting from, or at least recouping, your initial investment.
Protect Your Action Figures Collection
Some collectors prefer to keep an action figures sealed in the original packaging, where it is more likely to remain in mint condition. Other collectors like to play with their toys or otherwise handle them with regularity. Either way, it is important that one protect his or her action figures from harmful elements. Though a model whose packaging has never been opened will be naturally well-protected, it can nonetheless suffer damage if exposed to sunlight or humid conditions.
Avoid Sunlight and Humidity
If you hope to keep your action figures in near mint condition, keep them out of direct sunlight. UV rays will cause the plastic on the toys to fade and crack. Sunlight will also damage the packaging, causing boxes and cardboard backings to fade, and plastic packaging to yellow and become brittle. Hot, humid environments, even in the absence of the sun, can be equally damaging to the toys and their packages.
Keep Packaging Pristine
Serious collectors know that action figures in near-perfect packages command higher prices. If you want your collectible action figures to hold their value, protect the packages from damage and avoid excess handling. Use tweezers to remove unwanted price tags. Some collectors recommend using a commercial adhesive remover if the price tag is stubborn, but it is advisable to test it out first; otherwise, you may easily damage the cardboard.
Consider storing your collectible action figures in a protective case of some sort. Comic book bags are great for most blister-pack action figure cards. If you have something that needs even more protection, durable plastic boxes are available, and many of them are sized specifically for action figures.
Store Loose Action Figures
Because the cardboard backing of an action figure's box is usually much more fragile than the figure itself, loose action figures are often much easier to store than packaged ones. Aside from many carrying cases that are designed for a specific brand of figure, such as the infamous Darth Vader carrying case,, plastic boxes with 4-inch compartments are fairly easy to find, and are great for most 3 3/4-inch figures.
Find Action Figures on eBay
Action figures take up entire aisles in retail stores and can be found by the hundreds in thrift stores. Some online retailers, meanwhile, specialize in specific brands of action figures. With so many sources from which to purchase these collectibles, it can be difficult for consumers to know where to start. Thanks to its huge selection of both new and used toys, eBay is a convenient and reliable solution. Indeed, thanks to its sophisticated search tools, eBay provides a one-stop shop for not only purchasing actions figures but also researching a given model's history and comparing prices. Prices on eBay are often lower than those in brick and mortar stores, and many merchants offer free shipping, features that only add to eBay's attractiveness and ease of use.
If you're ready to begin shopping, you can visit www . ebay . com and go to the Toys & Hobbies portal via the "All Categories" listing in the top left. From there, you can click Action Figures.. The Categories list on the left side of each page will help you narrow down your listings by item type. As you move deeper into the portal, you'll find specific links for many popular brands and series, including Star Wars,, Transformers,, Masters of the Universe,, and more.
You can also refine your choices by searching eBay listing titles for specific words. For example, if you want to find a Snake Eyes figure, type "snake eyes" (without quotation marks) into the Search box. Visit eBay's Search Tips page for more tips on searching with keywords. If you can't find exactly what you want, try shopping eBay Stores,, telling the eBay Community what you want by creating a post on Want It Now,, or saving a search on My eBay, which will trigger eBay to email you when a match becomes available.
Conclusion
Whether one is looking to play or collect, the action figure market offers a vast collection of heroes, villains, and accessories. The shopping process can be chaotic, but as long as one knows a little about the history of actions figures, the varieties available, and how to properly judge a given toy's condition and price, it can be very easy to make a satisfying purchase. Plus, with the ability to easily browse eBay's collection of hundreds of thousands of models, there's no need to battle long lines at busy toy stores, or to seek out specialty collectors' shops.