Sam Butcher the artist and creator behind the Precious Moments collection and manufactured by Enesco. The collection illustrates his depiction of the teardrop-eyed children made of porcelain bisque and formed into figurines; all have one familiar theme in common an inspirational meaning and classic features. He began his artistic career creating the teardrop eyed children on greeting cards and posters. In 1978, Sam Butcher's artwork was discovered by Enesco Founding Chairman Eugene Freedman, who transformed his drawings into a three dimensional figurine collection. Ever since then the Precious Moments collection has develop into one of the most admired collectibles.
The follow is a guide to the date stamp on the bottom of each Precious Moments figurine.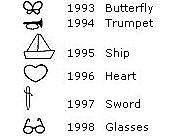 Speciality Marks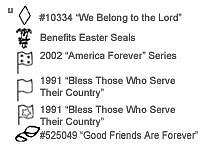 Written by Annette Nolan of AnnEpiphany of Wisconsin
NOTE: We are sorry we cannot provide opinions and/or appraisals for your items. Our reviews are for educational purposes only and if you have supplementary information to insert, please e-mail us with your update. We highly recommend if you have an item(s) to advertise them eBay.