I felt the need to write a short review to dispute another that says Baccarat pieces are 'always' signed and stamped which of course is UNTRUE. In fact most antique Baccarat pieces DO NOT come with any signature nor does it bear the renown acid-etched mark on it's glassware.
Baccarat started using paper labels from 1860 and the practice was eventually terminated in 1935.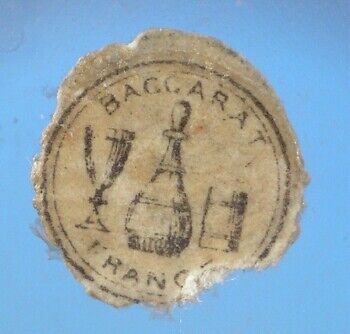 From 1936 onward did Baccarat started trademarking its works with the acid mark.
There are plenty of AUTHENTIC Baccarat pieces that do not bear any labels or acid marks as the company did not sign anything BEFORE 1936 and when paper labels were used, most did not survive the daily wear and tear. (example shown on the left - image credited to www glasscollector dot net)
Baccarat has a LONG history and they have made a tonn of different types of objects. They are famous for an assortment of paperweights, perfume bottles, stemware,vases and decorative figurines etc etc. With that many quality products made, it takes years of collecting, researching, a good eye and gut instinct to be sure if one is an authentic piece.
So the magical question is, how do you know if you ARE buying an authentic Baccarat?
Sadly, there isn't a foolproof way of knowing. In the world of antiquity, there are always going to be fakes floating around and some really good ones. If you are buying any expensive antique on the internet or on eBay, be sure to check with the seller on his/her return policy BEFORE you make a purchase. A common sense approach is much needed and if something looks too good to be true then it probably is. Be sure to ask any questions BEFORE you bid and always do your own research.
Bottom line is - do not assume it is an authentic piece simply because it is signed or vice versa. Get yourself familiar with the quality of Baccarat pieces like it's characteristics, shapes of the vases, looking closely at the way the decorations are done (does it look sloppy or does it make you go wow?) I've always said that you CAN spot quality when you see it but you do have to be meticulous and look at every detail. Most helpful would be if you get yourself educated. Knowledge is always power and the more you read up, the more familar you will be when you see the real thing.
Another good tip is to check up on past results from auction houses (Bonhams/Christies/Sothebys/Ragoarts). Those results would reflect photographic images and prices which you can compare and learn alot from.
Finally, investing in some good reference books are a must and they they aren't going to come cheap but they are a good way to get yourself acquainted with all things Baccarat. Knowing your antiques is a form of art that needs education. You can also drop by your local library but choices of reference books may be limited and outdated so my best advice is to spend a little money and buy yourself some good reference books on Amazon.
Oh and remember I said earlier that it is important to check a seller's return policy? Well this would come into play if you do buy it online and you aren't absolutely certain if you've got the real thing. You can always pay a certified appraiser to authenticate it or visit a local antique dealer. To locate a certified appraiser, check out the International Society of Appraisers to find one in your area (just google for the address) AND for any reason if you bought an item that was mis-represented, you can always return it to the seller. Always check with the seller's policies before you buy anything online especially on eBay!
eBay does have a list of recommended authenticators listed here on this link:
http://pages.ebay.com/help/buy/authentication.html
Happy Collecting and please do feel free to send me a message if you need help authenticating any antique art glass or browse through my auctions as I have a little of everything every now and then...I'm both a collector and a reseller and love any kind of art glass - they are definitely a work of art crafted with love and patience!
If you found this review helpful, please share it and rate it, thank you!