Asch/Grossbardt Trademarks:
Asch Grossbardt Jewelry has used many variations of trademarks over the years, you will find here a summary of the marks in date line order, all of which are available today on different jewelry designs.
Asch/Grossbardt:
1980's The first trademark: A and G are attached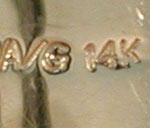 A/G was next: A and G divided by Slash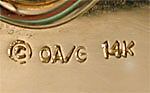 OA/G used for a time in the 1990's and is still in use for items too small . See image and description at bttom.

Mid 1990's - current. Current Asch/Grossbardt trademarkK AG in Circle.

2006 - current : Newest Asch/Grossbardt trademark is laser inscribed, with A/G image trademark and full spelling of name.
Eric Grossbardt:
Turn of the Century: Eric has created his own designes which are crafted at the Asch/Grossbardt studios, these items are mostly found on the QVC shopping network. However the trademark is found on assorted Asch/Grossbardt items.
Circa 2000 - Current: EG in Circle, and common 925 and 18K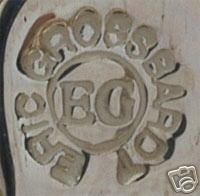 Current: EG in Circle with full Eric Grossbardt name
Jonah Grossbardt:
Circa 2004. Jonah's designes are young and fresh with use of colored gem stones, differing from the more traditional Grossbart inlay designs.

Jonah Grossbardt trademark with 925 and 18K stamps, JG mark on Silver and 18K bracelet.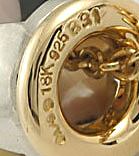 OA/G, 18K, and 925: marks on edge of barrel, example of older mark used on current item -edge of barrel, which is too small for circle mark.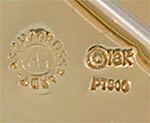 18K PT900: Gold and Platinum, AG in Circle. Rare Platinuma nd 18K mark early 1990's.
Please note: Variations exist, i will try and list more but limits prevent at this time: image size and quantity with detailed description: I have reached trhe maximim.. email me with questions, these are the most common.
Please vote! -
send your comments or research requests to me., thanks.