I love historic Charleston, South Carolina. Since I live in Columbia, South Carolina I am able to drive there for many long walks around the inner historic neighborhoods between the Market and the Battery...and a little beyond...and see some amazing gardens, houses , and neighborhoods. In this guide I will show you some authentic antique doorknockers on the homes, and a few other sights of the city of Charleston.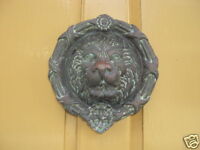 Here is an old brass lion's head large doorknocker. The lion's head doorknocker is probably the most common that I saw, besides the plain handle one. Tons of patina, no polishing the knockers here.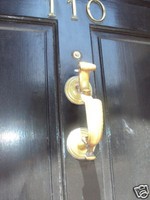 Here is the second most common knocker, the simple ' handle' one. It appears to be polished from my flash, but it was not.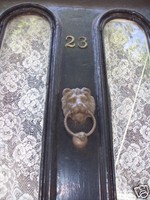 Another version of the lion's head knocker with a longer ring on this one.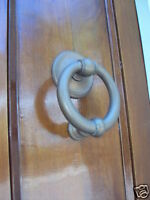 A simple brass round ring knocker...again..unpolished.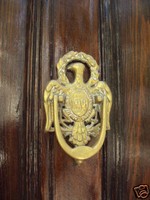 This is the only one that I saw, on many homes, that looked a bit newer, it may be a commemorative knocker for Charleston. An eagle with laurel and some script I could not make out.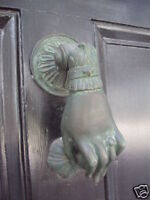 This was my favorite knocker, one from the late 1800's Victorian era of the woman's hand. I have seen these as knockers and tiebacks for old curtains. Loved this !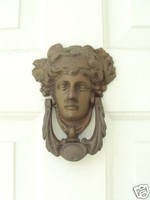 Another gorgeous old brass knocker of a woman's head, I have also seen this before in other hardware from the 1800's.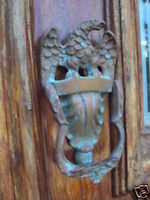 An antique brass eagle from a very large old mansion off the Battery that I think I raced up about 30 steps to take a picture of . Old and beautiful.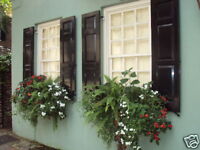 Typical view off the streets of Charleston, black wooden or Charleston green painted ,( which is such a dark green it looks black ), window boxes overflowing with flowers.

Please check out my other guides to some sights in Charleston, South Carolina. I hope you are able to go there some day or to take some ideas from these photos to make your home more like a Charleston home.

Thanks very much !
Gina