If you do a search on eBay for "AKOYA PEARLS", you will come up with literally thousands of listings. Unfortunately, many eBay sellers use the term "Akoya" to describe

any

pearl that is nicely rounded and pretty looking.
Akoya Pearls
First, Akoya Pearls are salt-water pearls, and the name "Akoya" comes from the oyster that produces the pearl. Akoya pearls are cultured in the Pinctada fucata martensii, also known as the akoya oyster. This mollusk is found and farmed primarily in Japan and China. Akoyas are known for their wonderful luster and are considered the classic pearl. They are generally white or cream colored, with overtone colors of rose, silver, or cream.
Although Akoyas are normally white pearls with varying overtones, some sellers offer "black" Akoyas. These pearls have been treated to create darker shades.
These are true Akoyas that are treated or dyed, but the majority of Akoyas are white. The pearls below are being sold online.
Cultured Black Akoya Pearls
Almost all pearls available on the market today are cultured. Finding salt-water pearls in the natural state is almost unheard of today, and most natural pearls are odd-shaped because the irritants that caused the oyster to begin creating the pearl are not round, to begin with. Beautifully round, lustrous natural pearls would cost many hundreds of thousands of dollars a strand!*
*In 2007, one strand of perfect, NATURAL round pearls sold at auction for over $7,000,000!
The akoya oyster is the smallest pearl-producing oyster used in pearl culture today, so akoya pearls also tend to be small, ranging in size from just 2 mm to about 11 mm in size.
They also tend to be the most consistently round and near-round pearls, making them ideal in terms of matching for multi-pearl jewelry such as strands and bracelets.
Freshwater pearls DO come in round (mostly near-round) shapes, but many of these are mis-labeled "Akoya" by their sellers. The term "Akoya" brings to mind a beautiful, round and lustrous gem-quality pearl, and so sellers put the term into the listing to attract buyers who want the nicest pearls. Some sellers don't have the foggiest notion of what an Akoya pearl is, but what the heck? It sells necklaces, so let's use the term freely to describe our wares. I've fallen into a few of those, and learned the hard way.
First, let's state that
gem-quality
Akoya pearls do not sell on eBay for $9.99 a strand. So if the seller is actually offering nicer Akoyas at that price, watch out for the huge bite on SH.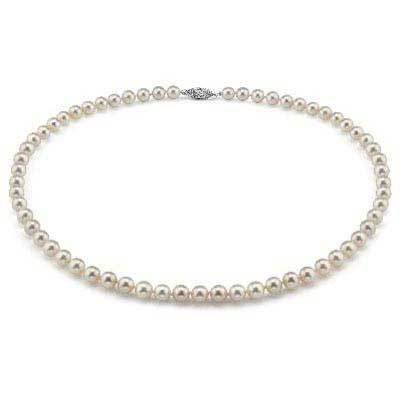 This is a set of real, honest-to-goodness gem-quality Akoya Pearls.
(Zales Jewelry)
This particular strand was selling online for just under $600. Although it costs a Chinese wholesaler or a Japanese pearl farmer far less than that to put together a nice strand of Akoyas, the price for REAL Akoyas is seldom as cheap as $9.99 a necklace. Also, REAL Akoyas deserve to be sold with REAL gold clasps, not gold filled or sterling. By the time the real thing gets to the USA and goes into that classy jewelry store, the price gets hiked up
at least
$300 to $500 a strand. Many jewelry stores sell a strand they bought wholesale for under $300 to over $2,000. Overhead, advertising, and salaries hike that price up and up. A 200% markup is often the lowest price you will ever find, and that is clearance pricing.
Hanadama Akoya Pearls
The word "Hanadama" means "flower", so a pearl called Hanadama must be the finest, most perfect, most lustrous pearl available. This is the term used by Japan's Pearl Experts to describe the creme de la creme of Akoya pearls! These pearls are utterly flawless, with exquisite AAA luster, surface, and shape.
You will NOT find these pearls on eBay at $10 or even $100. These pearls go for thousands of bucks retail.
The strand below is selling in an online high class store for $3,500, with an 18K solid gold clasp.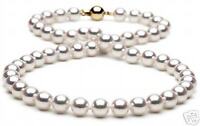 Even fine gem-quality round Fresh Water Pearls are not cheap.
Salt Water pearls tend to have a more glorious luster.
Compare the two sets of closely matched white pearls below. The upper set is a freshwater set. The lower set is Akoya.
It's very hard to tell the difference, especially at the AAA grade!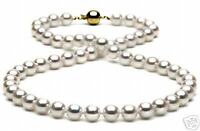 Pearls are a gorgeous gem to wear. Even "button" pearls can make a glorious-looking necklace for casual wear. But for those of us who absolutely adore gem-quality pearls, it is the round ones we seek. Yes, you CAN get a beautiful strand of round or near-round pearls for under $100, but don't accept cheap findings when buying pearls that you intend to wear. Be sure to ask the seller if the clasps are solid gold, gold-filled, or gold-plated. Many Asian sellers state that their clasps are "9K" gold. I must, therefore, assume that "9K" gold is less than 40% gold. 10K gold is about 41.7% gold, and is the lowest content gold accepted for jewelry in the United States. However, lower karat gold is used throughout Thailand, China, and other parts of Asia in jewelry manufacture.
Stay away from gold plated.
Plated
clasps usually flake off and lose the precious metal fairly quickly, and become dull and easily oxidized. 14/20 gold filled will remain lovely for between 5 to 30 years, and has from 50-100,000 times thicker gold content than gold plated clasps, and from 17-50,000 times thicker gold than even heavy gold electroplated clasps! Sterling silver is acceptable in bracelets and rings, but for dramatic evening wear, go for the gold.
Have fun shopping for Akoyas.
Please let me know if this guide has helped.