by
Jennifer
of
Little Lambs Baby Boutique

Modern cloth diapers have come a long way from the pins and flats of yesteryear. New, convenient choices are now available which make cloth diapering a great alternative for families who are concerned with the comfort & health of their baby, as well as the financial health of their family, and the health of the planet. After experimenting with every other type and style of cloth diapers around, I have found that AIO's offer the best in convenience and economics. Their ease of use puts them at the top of the list for babysitters, day care providers, daddy's, and mamas!
Most Econoical

AIO's, or All-in-One cloth diapers, offer the ultimate in convenience combining the ease of use of a fitted diaper without the need or expense of separate covers. AIO's are more convenient and economical then pocket diapers and inserts since you have the optoin of just changing the soakers if the shells are not wet or soiled. This brings your cost per diaper change way down.
Types of AIO's
AIO's which feature a 2 part design (a shell and a separate soaker) offer many advantages over AIO's with sewn in soakers. The 2 part design facilitates easy cleaning and makes for a quick drying time. Since AIO's with sewn in soakers have the absrobent layers sewn next to the waterproof layer, they will take a very long time to dry and are very difficult to get completely clean. This makes for an ideal breeding ground for bacteria--yuck!
Important Features of the Best AIO's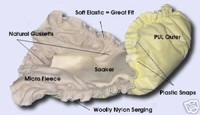 1. 2 mil PUL Outers -
2 mil PUL is a waterproof barrier fabric. It has a soft polyester knit on one side and polyurethane laminated to the other side. Used in the medical field as a barrier fabric, it is supers durable and designed to withstand the rigors of industrial washing and drying, and hospital sterilization. Stay away from AIO's which use an inferior waterproof barrier fabric.
2. Separate Soakers -
are extremely important in terms of the health and comfort of your baby. Tri-Fold style soakers are easy to get clean and dry in one drier cycle. They offer complete flexibility and will sllow you to customize the absorbency of the AIO's to your baby's needs. Fold the soakers in half or in thirds. My favorite soaker fabric is 100% Cotton. It is so soft and absorbent and, unlike other fabrics commonly used in cloth diaper making, will stay soft even after tons of washes.
Soakers that snap in and out make messy clean ups a breeze. If the shell of the AIO is not wet or soiled, you can change only the soaker. This makes your cost per diaper change much lower then with other cloth diapering systems such as pocket diapers and one piece AIO's.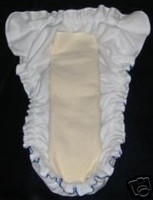 3. Plastic Snaps -
Snaps make it tough for a toddler to take off their own diaper, are more durable, are much easier to care for then velcro/aplix (no need to pick out the link after each wash), and are more comfortable for baby. I once had the "soft" part of aplix leave a huge welt on my baby's tummy! Make sure that the company you are purchasing from has a Lifetime Snap Guarantee.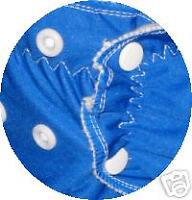 4. Soft Elastic -
Super soft, stretchy elastic is important for contaning messes, and for an all around stretch that makes for a great fit. This type of design ensures a snug fit on babies of all shapes and sizes. All around elastic will create natural gussetts at the legs, front, and back of the AIO which are vital for holding everything in!
5. Micro Fleece Lined Shells -
The shells of AIO's should be lined with a soft, non-absorbent fabric (this will prevent the wicking of wetness to the outside of the AIO shell). Micro fleece by Malden Mills is a super trim, buttery soft & sumptuous fabric known by manufacturers the world round to be the highest quality micro fleece available. It will stay looking great wash after wash (unlike cheaper micro fleeces).
About the author:
Hello :-) My name is Jennifer and I am the owner/creator of
Little Lambs
, a store featuring high quality
One Size AIO's
,
premium hemp products
,
baby slings & gear
,
crib bedding sets
,
classic baby/kids apparel
, and
Items for Mom
. Check out our
Bargain Boutique
for specials, and our
Package Deals
for incredible savings on cloth diapering layettes. We have daily auctions that
start at only a penny!