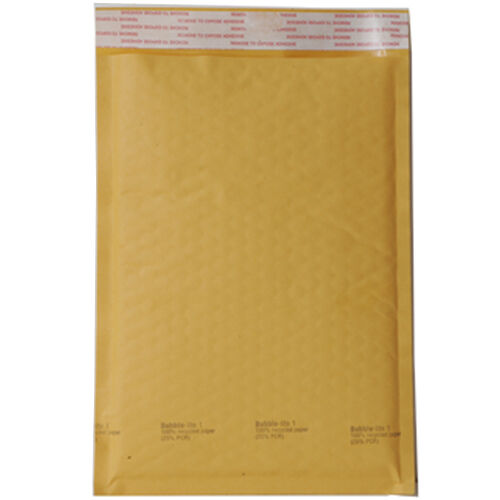 To safely send important items via post, buyers can use padded envelopes. These envelopes provide an added layer of security because they feature plastic bubble padding or paper padding, which can protect the contents of an envelope better than standard envelopes. Although the padding of a padded envelope provides a stiffer envelope structure than regular envelopes, buyers may want to add an extra layer of protection when using padded envelopes, depending on the vulnerability of the items they are shipping. Choosing the correct size envelope should be done by measuring the envelope's contents carefully, including any added protection, to ensure the envelope stays closed during shipment.
Envelope manufacturers produce padded envelopes in standardised sizes to accommodate a range of shipping items. Various types of padded envelopes can easily be found in local stationery and office supply shops, as well as online at marketplaces like eBay. Since manufacturers label their envelope sizes using a range of terms, buyers should become familiar with the dimensions of each type of padded envelope and some of the features included in envelopes before shopping.
Measuring Envelope Contents
Although many people rely on estimations to determine the size of their envelope contents, the best way to determine the contents' true size is by measuring shipping items with a ruler or cloth tape measure. In the case of document shipping, buyers can rely on the size of the paper they used to print their documents and can forgo measuring if an envelope contains a few sheets of paper. If a buyer plans to send a stack of papers, or an oddly-sized object, however, measuring is a necessity.
To measure envelope contents correctly, envelope buyers should gather together the items they plan to ship and any additional packing materials. Place the shipping items together with the additional packing materials in the same configuration in which the materials are to be placed when shipped. Using a ruler or cloth tape measure, measure the width, length, and depth of the shipping bundle. Note down the measurements on paper so they can be used when shopping for padded envelopes.
Word-Based Sizes for Padded Envelopes
Some manufacturers employ word-based sizes when labelling their padded envelopes. Before purchasing these envelopes, buyers should know the general dimensions of the envelopes to compare with the size of the envelope's contents.
| Word-Based Padded Envelope Sizes | Minimum and Maximum Dimensions |
| --- | --- |
| | Up to 170 x 250 mm |
| | Between 171 x 251 mm to 220 x 340 mm |
| | Over 220 x 340 mm |
Word-based padded envelope labels allow buyers to quickly focus their purchasing options. Once buyers have limited their shopping range, they can then read the exact size dimensions of a padded envelope, which should be included on the envelope's label. By knowing the exact size dimensions, buyers can guarantee that the padded envelopes they purchase can accommodate their shipping items.
International Standard Sizes for Padded Envelopes
To increase standardisation between envelopes and paper sizes, the International Organisation for Standardisation mandated ISO 216 in 1975 and ISO 269 in 1985. These mandates set the standard for paper and envelope sizes used internationally, with the exception of the United States and Canada. According to the standards, paper and envelopes are labelled using a letter and number which signify the size dimensions of the paper and envelopes. Before shopping for padded envelopes, buyers should understand how the ISO mandates affect how paper and envelopes correspond to each other.
A3 Paper Sizes
A3-capable envelopes are large envelopes that can accommodate the standard dimensions of A3 paper. According to ISO 216, A3 paper must be sized at 420 x 297 mm. To match those dimensions, manufacturers created envelopes labelled "C3", which are 458 x 324 mm. In many cases, buyers can use C3 envelopes to safely post flat objects, which are the approximate size of A3 paper or smaller objects that have more width.
A4 Paper Sizes
A4 paper sizes are commonly used in offices and homes to print a majority of documents, like letters, reports, and lists. A4-capable envelopes are often labelled "C4" and are manufactured to be 229 x 324 mm. These dimensions match the size of A4 papers, which are standardised to be 210 x 294 mm. Like C3 envelopes, C4 envelopes can be employed to ship small, flat objects that approximate the dimensions of the envelope.
A5 Paper Sizes
Slightly smaller and more square-shaped than the generally used A4 paper, A5 paper measures 210 x 148 mm. ISO standardised A5 envelopes that match this type of paper are labelled "C5" and measure 229 x 162 mm. This type of padded envelope can accommodate documents printed on A4 paper as well if the documents are folded in half. For buyers who would like to ship CDs in disc cases, C5 envelopes can hold two CD cases easily.
A6 Paper Sizes
A6 paper sizes are often used for notepads and measure 148 x 105 mm. Envelopes that correspond to flat sheets of A6 paper are marked "C6" and can accommodate a few sheets of A4 paper folded twice in half. Buyers who want their posted documents to remain as neat as possible for official reasons, however, may refrain from using a C6 envelope for A4 paper because of the amount of folds necessary to fit the paper into the envelope.
A7 Paper Sizes
A7 paper is a small-scaled paper that measures 105 x 74 mm. A7-capable padded envelopes are labelled "C7" and are sized at 81 x 114 mm. For buyers who would like to ship small objects, such as trinkets, pairs of small earrings, or chain necklaces, C7 envelopes are an option depending on the size of the objects after they have been wrapped.
Padded Envelope Closures
Part of the ease of use for padded envelopes is the means employed to seal the envelope. When shopping for the correct padded envelope size, buyers have a number of options to consider in terms of closures. Gummed padded envelope closures need moisture to activate the envelope's seal and can provide a weak seal if the gum was not sufficiently moistened or if the gum dried before the seal was closed. Self-sealing padded envelopes have an adhesive that simply requires pressure to activate the seal of the envelope. This type of closure is fast and efficient, but can provide a poor seal if the envelopes are old. Peel-and-seal padded envelopes feature an adhesive stripe that is protected by paper before it is used. Clasp padded envelopes come in two types: clasp alone or clasp with adhesive closures. Clasp with adhesive closures provide a second level of security and allow clasp closures to be permanently sealed during shipping. Lastly, button and string padded envelopes are generally reusable envelopes that are appropriate for inter-office postings, but can be used for public shipment if an adhesive gum is also integrated into the envelope's closure.
Padded Envelope Flaps
When sizing padded envelopes for use in shipping documents and objects, buyers should remember that they have options in terms of the flaps included on the envelope to seal the envelope. The inclusion of a flap does not affect the size of an envelope, but can impact how quickly an envelope can be closed. Commercial flaps are narrow flaps that come to a rounded point in the centre of the flap. V-flap padded envelopes include a deep, sharp point in the centre of their flaps. Because both commercial and V-flap envelopes feature angled edges, they are generally limited to gummed, self-sealing, or temporary closures. Square-flap padded envelopes, on the other hand, have a straight edge and can accommodate all types of closures including peel-and-seal closures.
Buying Padded Envelopes on eBay
Buyers looking for a range of padded envelopes can visit eBay to find a wide selection of sizes and features. Since many eBay sellers offer envelopes in lots, buyers should check the quantity of padded envelopes included in each eBay sale before making a purchase. In some cases, padded envelope lots can include envelopes of one size, or a variety of sizes, to match different shipping needs. Buyers can also be interested in the different papers used to create a padded envelope and eBay features an array of material options. Buyers may prefer white, manila, or kraft paper padded envelopes, or opt to choose eco-friendly padded envelopes containing 100 per cent recycled paper. To find padded envelopes on eBay easily, buyers can conduct a keyword search, which contains keywords relevant to a padded envelope's features and size. For example, buyers interested in purchasing padded envelopes from the well-known manufacturer, Mail Lite, can type "Mail Lite Gold padded envelopes" into eBay's search field and browse the results until they find the padded envelopes they require.
Conclusion
Padded envelopes offer users a safe and efficient way to post important documents and small objects, but choosing the right size envelope can often be confusing. To determine the right size of padded envelope, buyers should measure the contents they hope to ship. This includes the items themselves and any packing materials used to protect the items. Because paper and envelope sizes are often labelled by the standards set by the International Organisation for Standardisation, buyers should become familiar with the different ISO designations for paper and envelopes before shopping. Additionally, padded envelope manufacturers can add special features to their padded envelopes that impact how easily and securely the envelopes are sealed. Before purchasing padded envelopes, buyers should determine which features best match a buyer's packing and shipping requirements. After buyers have a thorough understanding of the sizes and features they need, they can visit eBay to find a large selection of padded envelope sizes and options that can suit any shipping-related requirements.