Welcome!
We have been selling Lord Of The Rings bookmarks and rings for a few years and we still get the same questions. Are the bookmarks from the movie? Is the ring real gold? Can I wear the ring on my finger? Are these bookmarks and rings authentic? Is the picture in the ad the same as the ring I will get? Hopefully, we will answer all you questions and more.
New Line Cinema created Lord of the Rings Promotional bookmarks, charms and rings exclusively distributed in North America by Antioch Publishing Inc. We sell only the authentic product produced by New Line Cinema so all or our product is genuine and authentic. The bookmarks are from still or action scenes from the actual Lord of the Ring movie.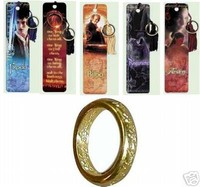 Bookmarks created by Antioch Publishing are high quality and are plastic-not paper. Many dubious dealers would sell paper bookmarks as authentic New Line Cinema product which are thin and easy to tear-Antioch Publishing plastic bookmarks are not thin and very hard to tear (we haven't been able to yet). Many dealers offer larger LOTR (lord of the rings) bookmarks from overseas but these are not the same.
Rings created were for "promotional purposes only" and that means that they were not meant to be worn as jewellery. Many people do and that is fine but it can and usually does damage the finish. Wear it on a chain or cord if you wish to preserve the ONE Ring longer. The authentic LOTR ONE Ring has a solid metal core lacquered with gold finish over the engraving. This means that the a lacquer is put on the metal core and hardened to a golden metal finish. Golden is not the same as 14 Karat gold, the lacquer is just a finish that looks like gold. Don't get fooled by sellers telling you that the ring is "real" gold. There is absolutely no "real" gold in the authentic New Line Cinema promotional ring licensed by Antioch Publishing.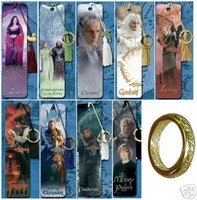 As sellers, we all want to get your attention, so some dealers use flashy headlines, blinking lights and other marketing tools to have you take a look at the ad. We are no different, and sometimes we use pictures that are for "promotional" or "advertising purposes only". That means that the picture is representative of the product, but may vary slightly. A prime example of this is when we may get a picture from a supplier that looks really nice and shows our product better then one of our digital camera pictures. We may the promo picture in our ad instead of our digital cam shot to better represent the item. We only do this if we have several ads running of the same product so that there is ad variety. We ensure that most of our advertisements have our own picture and we are certain to show any clients an actual picture of the product we sell on our site or else we will provide it directly to our customer upon requested. Beware of sellers who provide ONLY promotional pictures of products and cannot provide the original picture of the product they are advertising.
We hope this has helped you to be more informed when you purchase Lord of the Rings products and hope to see you at our eBay Store~It's All Good Online Store!
Feel free to contact us with your questions and we will do our best to help you:) Happy Bidding!