Are you having a home built? The whole process can be extremely overwhelming. There are a few things I wish I had known before we started on ours. Most people I know who have built are wanting to do it a second time around because of the mistakes they made the first time. So, if you've never worked with a builder before, here are a few things I learned along the way, and also a few tips I picked up from my sister, who's an architectural designer. Even if your taste differs from mine, I think there may be one or two things you may like to know ahead of time.
1. It's all in the details.
This is a small bit of advice good designers know, and I'm glad I had my sister with me when I made a few decisions. Things like lighting, molding, trim, and cabinetry are important to a unique home. Without them, your home can have a "cookie cutter" appearance, which is what most people are trying to avoid.
Here's an example: arched door openings. While these were not standard on my house, my sister advised me to ask about them. They aren't something builders always like to do, as they require a little more work. However, it never hurts to ask. We decided to place them on the lower floors, and I'm glad we did. Each opening cost about an additional $600, but we only had to add three, and I think they make all the difference in the world. It's a relatively inexpensive way to add variety to your new home.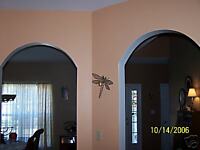 Another example: 9"ceilings on the lower floors. Although we are not into the vaulted ceilings most new homeowners want, we decided to add a little height on the lower floor. It gave the house a larger appearance without adding dramatic sweeping walls and huge windows to cover, which can get really expensive.
2. The kitchen is the focal point for your house, so it is not the place to save money. You can do a lot of things later (like paint, change hardware, get light switch covers), but it is really expensive to change cabinetry or remodel a kitchen later. Spend some money on a few upgrades in the kitchen; you'll be happy you did.
Here's an example: upgraded cabinets. We decided to add larger maple cabinets, and this helped bring the ceiling down somewhat in the kitchen. Although we liked high ceilings in the rest of the lower floor, kitchen cabinets can become problematic in a house with high ceilings. If you put the standard smaller cabinets in a house with high ceilings, they can look funny. The cabinets don't fill the wall space, and they appear like tiny boxes hanging on the wall. Without going extreme and having 48" cabinets put in, we were able to add 36" cabinets to fill the space.
As you can see in the picture below, one larger 48" corner cabinet with a glass door insert can add variety without breaking the bank. It breaks up the space a bit, and it provides a nice way to display some items in the kitchen. Notice the molding on the cabinets also; it cost more but it adds a nice finished look to the cabinets.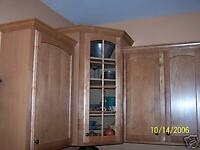 corner 48" cabinet, glass insert, crown molding
Although I would have liked to have granite countertops, it wasn't in the budget. So I compromised. I used formica countertops but had the builders add wood trim to the outside edge. It cost more, but not nearly as much as granite or marble. The industrial look of formica was toned down with the wood edge, so I was able to have more of the finished look I wanted while staying within my budget.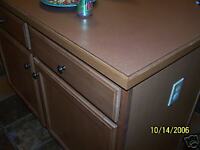 wood trim around edge of cabinet
3. Lighting is a detail that is important, but you can cut corners in some places and splurge in others to save money.
An example: the dining room fixture. Although I didn't have a lot of money to spend on lighting, I decided to spend the most on my dining room fixture. It cost more than any other fixture in the house (about $450), but it's also the most visible. It's the first fixture guests see when they walk in, so I felt it was important to spend money there. On the other hand, I used $16 mushroom fixtures in the closets, pantry, and laundry room. No one except family members go in those rooms, so it made sense to put the cheapest lighting in there.
closet fixture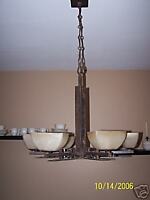 dining room fixture
4. Good flooring is beautiful, but it can get costly. Believe it or not, there are some decent choices in vinyl!
Here's an example: wood in the foyer, ceramic in the kitchen, and vinyl and carpet everywhere else. Sure, if I had the money to spend, I would have loved to have wood flooring throughout the house. But we just didn't have that kind of money. So we put expensive floors where we get the most traffic, and vinyl other places. The important thing to remember about vinyl is this: it is what it is. Don't try to choose something because it doesn't "look" like vinyl. No matter how you step, it will always FEEL like vinyl. Just give in and pick something that looks nice but doesn't try too hard! I like my vinyl so much that I might even keep it instead of replace it someday. (I said, "MIGHT"!)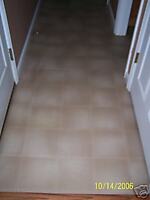 vinyl in the back hallway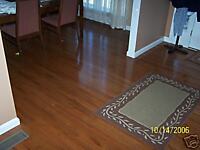 wood in the foyer
5. Don't be tempted by extra sinks and bathrooms. You may regret it!
Here's a huge mistake I made: lots of extra sinks in FOUR bathrooms! I HATE cleaning, so what was I thinking? We had shared one bathroom before building this house, so I think I was fed up. Now I'm sorry I ever allowed myself to get carried away. Bathrooms that aren't used often still have to be cleaned every now and again, and I hate it. I wish I had stuck with two (or two and a half). Too many bathrooms is out of control!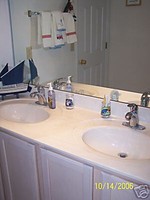 a double sink that never gets cleaned...
Of course, any home you build is entirely up to you. You know what you want and like, and that's why you've made the decision to have a home built. However, keep in mind that the person working with you on the home is an EMPLOYEE of the building company, and he or she will be there to drive up the price of the house. Step back, do some investigating on your own, and figure out what unique details your builder is willing to add in order to make the house YOUR own home. Good luck, and welcome to your new home!