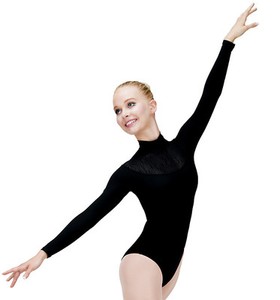 Most women know a few tips and tricks that can make them look slimmer when shopping for normal clothing, but buying dance apparel is a whole different story. Because of their tight fit and thin material, leotards make it much more difficult to hide problem areas. However, with the right leotards, dancers do not have to worry about hiding their bodies. From the shoulders to the stomach and down to the legs, there are leotards to flatter every part of the body.
Variations in sleeve length, material, color, and cut enable dancers to choose how they want their leotards to appear. Different characteristics highlight different body parts, and showcasing one part of the body often takes attention away from other parts of the body that dancers may feel less confident about. The following guide reveals nine leotards that help diminish the appearance of certain areas and draw attention to other areas. The guide is divided into sections according to the different areas of the body.
Leotards to Slim the Shoulders
The most effective tricks that dancers can use to slim their shoulders include integrating cap-sleeve leotards and boat-neck leotards into their dance wardrobes. Both kinds of garments enable dancers to draw attention away from broader shoulders.
1. Cap-Sleeve Leotards
For dancers who want to diminish the appearance of broad shoulders, cap sleeves work like a charm. Cap-sleeve leotards not only cover up shoulders, but, like all sleeved leotards, they also create an illusion that makes shoulders blend better with the upper half of the body. This means that shoulders stick out less and draw less attention.
2. Boat-Neck Leotards
Boat-neck leotards serve a similar purpose in that they take attention away from the shoulders and draw it instead towards the upper body. Wearing a boat-neck leotard means that all eyes are on the striking lines of the collarbone instead of on the shoulders. Some boat-neck leotards even combine the best of both worlds by featuring cap sleeves, as well. Many tank leotards also feature boat necks.
Leotards to Slim the Arms
People who are unfamiliar with leotards might be unaware that they do not always have to flaunt their arms when wearing them. In fact, sleeves offer a great way to slim down arms just by leaving them less exposed.
3. Sleeved Leotards
When it comes to buying sleeved leotards, buyers have many different options available to them. The two main sleeved leotards are long-sleeved leotards and three-quarter sleeve leotards. By choosing leotards from both categories, dancers can inject a little variety into their wardrobes while visually slimming down their arms.
Long-Sleeved Leotards
Long-sleeved leotards feature full sleeves that extend the entire length of the arm. The advantage of this type of leotard is that it looks flattering on any dancer. This means that long sleeves can be used by those who feel self-conscious about the size of their arms. They can also be used to stay warm in low-temperature environments.
Three-Quarter Sleeve Leotards
Three-quarter length sleeves are a somewhat non-traditional option for dancers. However, it is quite common to see gymnasts sporting three-quarter sleeve leotards. These leotards provide the same arm-covering benefits as long-sleeved models, and they do not get in the way of the wrist guards or grips that gymnasts sometimes wear. Wearing three-quarter sleeve leotards also gives dancers the chance to add a little variety to their dance wardrobes while still maintaining the slimming effects of sleeved leotards.
Leotards to Slim the Whole Upper Body
Slimming the upper body can be a little more difficult because the movements of dancers often draw attention to this specific area. For this reason, dancers who want slimmer-looking chests and torsos should focus on providing the right kind of support for their upper bodies and shifting the focus down towards their legs.
4. Leotards with Built-In Shelf Lining
Leotards with shelf linings are great for supporting and slimming the upper body. Many women find that the shelf support found in certain types of leotards is sufficient without having to wear anything else underneath. For those who need additional support, there are leotards with built-in bra cups and underwire. Ensuring that leotards provide the right support for their upper bodies helps dancers achieve a slimmer look.
5. Leotards with High-Cut Legs
High-cut legs draw the eyes to the lower half of the body, and this makes the upper half less noticeable. For example, jazz-cut leotards can be used to show off long legs and reduce the appearance of a larger torso or chest. French-cut leotards go even higher, but they are not as comfortable for many dancers. There are a variety of high-cut leotards to suit all tastes.
Leotards to Slim the Stomach Area
Thanks to specially designed leotards that feature ruching as well as leotards in flattering colors, dancers do not have to worry about their stomach areas. Slimmer stomachs can be achieved by using embellishment techniques, or buyers can settle on that well-known slimming color, black.
6. Leotards with Ruching
Some leotards are gathered, or ruched, at the waistline, which can be useful for camouflaging any unwanted bulges in the stomach area. Leotards can also have ruched bodices. In addition to providing a nice embellishment, a ruched bodice helps slim the stomach by adding volume to the chest area, and this makes the waist look proportionally smaller.
7. Leotards Made of Matte Fabrics
Shiny fabrics make bulges stand out from the rest of the body, so any dancer who wants a slimmer-looking stomach should stay away from shiny leotards. Instead, they should opt for dark, matte fabrics. The slimming qualities of black are well known, and the same rule of thumb can be applied to leotards, as well. Dancers who want to experiment with colors can try deep shades like forest green or dark blue in cotton or cotton-spandex blends.
Leotards to Slim the Hips
With some types of dancing, like ballet, the importance of the hips is downplayed. For other types of dance, however, the hips are given a lot of attention. As a result, dancers who are uncomfortable with their hips might want to diminish the appearance of this body part by bringing the focus farther up the body or by sticking to modestly cut legs.
8. V-Front Leotards
For those who want to slim their hips, V-front leotards work by emphasizing the amount of skin shown on the upper half of the body. By emphasizing the upper half of the body and the torso, the bottom half of the body naturally seems smaller. V-front leotards often have embellished necklines, and this also helps draw even more attention away from the hips.
9. Leotards with a Ballet-Cut Leg
Dancers with wider hips may find that leotards with ballet-cut legs are more flattering than those with higher cut legs, such as jazz-cut or French-cut leotards. This is because jazz-cut leotards have a leg line that is higher up towards the hip than ballet-cut leotards. French-cut leotards go even higher, often showing off a significant portion of the hips. In order to downplay the hip area, the most modest of these three types of cuts, the ballet cut, should be chosen.
Buying Leotards on eBay
Leotards can be found in a variety of places, including speciality stores for dancers and numerous general retailers. For those who want to find a large range of leotards in one convenient location, shopping on eBay provides the variety that they are seeking. Buyers who are searching for leotards on eBay can begin by using the convenient search bar from any page on the eBay site. General terms like "leotard" tend to produce an almost insurmountable number of listings, but more specific searches like "cap-sleeve leotard" typically produce results that are much more focused and useful.
Once buyers have found leotards that are best suited to their bodies, they are ready to place some bids, but before doing so, they need to thoroughly review auction listings for information about sizing and the seller's return policy, if any. It is also important to click on the seller's feedback number and review the helpful comments that have been posted about the seller's business practices by previous buyers who have done business with him or her. This is an important part of the eBay process, and buyers and sellers should always leave feedback for each other.
Conclusion
Everyone knows that leotards are an integral part of a dancer's wardrobe. However, not everyone knows that there are many different types of of leotards. Depending on the shape of a dancer's body, certain leotards have features that flatter the dancer's shape. Dancers who want to have more confidence when dancing can opt for leotards with slimming characteristics that help them camouflage their problem areas.
There are specific designs that help create a slimmer look for virtually any body part. Starting at the top of the leotard, certain types of sleeves and necklines can make shoulders look less broad. Similarly, arms can be covered up by leotards with long sleeves. If the upper body is the source of discomfort, shelf linings offer support, while high-cut legs put the emphasis on other body parts. Ruching and dark colors can reduce the appearance of bulges around the stomach. Dancers who want their hips to look slimmer can wear low-cut legs in addition to drawing attention away from the hips with embellished necklines.
By shopping with these tips in mind, dancers can feel confident any time they put on their leotards, and they can easily find the types of leotards that make them look great.