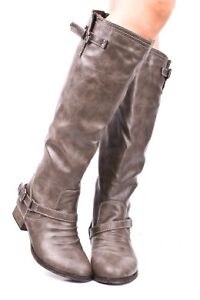 Knee high boots are a great fashion statement. Though they were originally not made as a fashion statement, knee high boots are now taking over in various fashion trends. Knee high boots can add to anyone's wardrobe, but many don't know the various ways to wear them to the most flattering effect. This guide will address what a knee high boot is, where they originally came from, the different types of knee high boots, eight different ways to wear knee high boots, and the various types of knee high boots available to buy. Knowing this information will help any woman know which knee high boots to add to her shoe collection.
What are Knee High Boots?
Knee high boots are boots that rise up to the knee or right underneath the knee. They are typically tight around the calf of the leg and ankle. A knee high boot can be made out of synthetic rubber, suede, leather,, or various other materials. There are slip-on knee high boots as well as those that lace up or buckle. They can be worn as a fashion statement or as a way to protect the feet.
History of the Knee High Boot
Originally, knee high boots were used by fishermen, dairy workers, stable hands, duck farmers, and the like to protect the person's feet from mud, manure, and water as well as to provide traction on slippery surfaces. These boots tended to be slip-ons; however, some of them had laces and buckles. Knee high boots were also worn by cadets in the military. The boots were custom fit to each person for dress wear or cavalry wear.
Today, there are many knee high boots in the fashion industry. These boots have made a fashion statement of being chic, classy, edgy, and sexy. Knee high boots have been a part of the fashion world since the 1950s and still hold as the fashion statement today.
Types of Knee High Boots
There are various types of knee high boots in the fashion world, and it is important for women to be aware of the different choices when choosing knee high boots for their wardrobe. The following are a few style choices one can choose from:
| Boot | Description |
| --- | --- |
| | Zip-up knee high boots are just as they sound: they zip all the way up the side of the calf. The important part is finding a pair that fit around the calf. For thinner calves, there can be gapping, but for muscular calves, the zipper may squeeze too tightly. It is important to find a pair that fit correctly in order for them to look trendy. |
| | Pull-on stretch knee high boots are often an easier choice. They are made smaller with the intent of stretching. Thus, they fit snugly around even the thinnest calves yet stretch for the most muscular calves as well. |
| | Lace-up knee high boots are usually a crowd pleaser. With lace up boots, the woman can adjust how loose or tight she wants the boots to be. They are great for fitting one's own personal comfort level. There are various styles available from military to gothic looking. |
| | The cowboy knee high boots are of course looser around the calves than other types of knee high boots. Therefore, if there is quite a bit of space between the calf and the leather, it is no big deal, and if they fit snug around the calves that is not a problem either. They are kind of like a one size fits all kind of boot. |
Picking a knee high boot greatly depends on the size of the calves, whether one wants form fitting boots, or whether one has thin calves or muscular calves. It is important to choose a knee high boot that fits around the leg the way it should.
Tips for Choosing Knee High Boots
Knee high boots offer a great deal of benefits to the woman's silhouette. Here are few tips to get the perfect pair of boots for any figure:
For women who have thick calves, they will look thinner in sleek styles and dark colors.
For women with thin calves, they will gain bulk in cowboy boots, slouchy styles, and prints.
Women should play around with different boot styles as the heel and toe have more to do with what her silhouette will look like than the actual height of the knee high boots.
For women who are looking to elongate their legs, a pair of pointed black stiletto boots would add length. However, a narrow wedge knee high boot is better for more visual balance if calves are a little thicker.
For women with thinner calves, they should stay away from knee high boots with skinny heels just like women with thicker calves should stay away from thinner boots.
Following these few tips can really transform a woman's silhouette.
Knee high boots can look classy, chic, sophisticated, and much more. However, it is important that one know how to wear knee high boots in a way that is flattering. Here are a few trendy ways to wear knee high boots:
1. Wear Knee High Boots for an Equestrian Look
To don the equestrian look, which is basically the epitome of high-class casual, a woman should pick her favorite pair of knee high boots and combine them with skinny bottom pants such as skinny jeans or leggings. A fitted blazer or waistcoat over a simple top gives the full equestrian look. Accessories such as pearls or diamond studs add to the overall look.
2. Wear Knee High Boots for an Office Look
To give off a classy business look, a woman should pair knee high boots with a skirt that hits just below the knee or right above the knee. If the skirt is on the shorter side, black tights are most appropriate. To top of the office look, add a simple fitted T-shirt with a pea coat or a tgtage trench.
3. Wear Knee High Boots for a Retro Look
To get a cute retro look, a woman can take inspiration from Andy Warhol and Twiggy. Simply pick out a little black dress and an A-line skirt and combine it with a pair of white knee high vintage boots for a classy retro look. To top off the attire, add a hobo bag or clutch and hoop or chunky vintage earrings.
4. Wear Knee High Boots under a Skirt
For those who want an alternative to wearing heals to work, which leave the legs bare to the elements when wearing a skirt, try boots instead. A pencil skirt that hits at the knee paired with knee-high boots that eliminates a gap of skin showing equals instant elegance, which is perfect for the workday.
5. Wear Knee High Boots over Skinny Jeans
Wearing knee-high boots over skinny jeans is a great way to look casual, yet sexy at the same time. It shows that while the wearer wanted to be comfortable, showing off the flirty side is important too. This look also transitions well from a day at the office to an intimate dinner with friends.
6. Wear Knee High Boots over Leggings
Leggings make for a great way to give the appearance of slimmer longer legs. Pair leggings with an oversized T-shirt and some knee high boots for a cute bohemian look. To achieve the comfy casual look that leggings give off, it is important to pair them with boots that match that factor. Knee high boots made of leather or ones with lots of buckles and embellishments will drag down the look and throw it off balance.
7. Wear Knee High Boots under Dressy Capris
Just because the seasons have changed to a little cooler weather, doesn't mean it's time to put up that summer attire. Wearing knee high boots under dressy capris allows the legs to stay warm while giving a classy unique look. The trick to this look is to make sure the capris are long enough and the boots tall enough that there isn't any skin showing. Also, it looks best when wearing form fitting capris because if one wears baggy capris, the entire outfit will look sloppy.
8. Wear Knee High Boots with Shorts
For women who like a little daring edge to their wardrobe, they can really dress up some shorts with a pair of knee high boots. For the summer, wear shorter shorts that allow a little skin to show. However, if it is a little cooler out, a woman can wear tights under the shorts and knee high boots on top of the tights. This is a fun look that is great to experiment with.
When choosing what outfit to wear with knee high boots, remember, the overall effect is to look taller and slimmer so choose outfits that complement the boots while making the body look sleek, slim, and sexy.
How to Buy Knee High Boots on eBay
Once a woman has been able to choose which style she wants and knows how to wear knee high boots, it is time to add some spice to the wardrobe. There are various shoe stores and online auction sites like eBay where a woman can go to buy a pair of knee high boots for any outfit. Buying from eBay is as easy as can be.
To search for knee high boots on eBay, you can simply type in the style or type of knee high boot you desire into the search box. For example, you can search for "red stiletto knee high boots" or "white laced knee high boots" to find the perfect pair of boots for your outfit. To narrow down your search, you can always search a little more specific such as putting the size you need into the search box as well. You can also use the categories such as "Women ' s shoes" to help narrow down the choices. Narrowing down your search will help you find what you are looking for more quickly.
Once you have found the pair of knee high boots you are looking for, you can learn more about the seller by asking the seller questions such as how tall the boots are or what the width of the boot is. You can also look at the seller's ratings and reviews to determine how satisfied other customers were with the seller's service. Getting to know your seller will ensure you receive exactly the pair of boots you want.
Conclusion
Like many boots, knee high boots were once made as a protective wear; however, the fashion industry has managed to pull together trendy styles and looks from the once protective attire. Now there are various styles, colors, and types of knee high boots, and various ways to wear them. Knowing what to wear with knee high boots as well as how to wear them with class is essential in choosing a pair of knee high boots for any wardrobe. It is also important to know which style boots to wear for each person's body type.