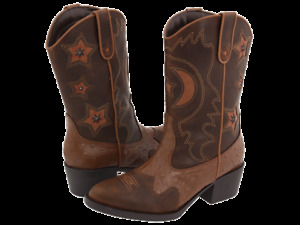 Western style boots are just right for the rodeo, a square dance, or horse riding, but they can be so much more than "special occasion" situational, costume, or sport wear. Cowboy boots also do not have to be worn with the typical American folk dress of jeans, a plaid shirt, a bolo tie, and a 10-gallon hat. These Country and Western images are so closely associated with cowboy boots that many people find it difficult to break out of the mold and see cowboy boots as versatile, even stylish, footwear. The following fashion guidelines will get those Western boots out of the closet and onto the street more often. By mixing boots with the right pieces of clothing and smart accessories, a variety of looks can be attained. There are eight ways in which Western style boots can take a wardrobe from great to spectacular.
Origin of Western Style Boots
True Western riding boots, or cowboy boots, were designed to be worn while riding horses, naturally. The heel is higher than that on most men's footwear because it helps to keep a rider's foot securely hooked into the stirrup without sliding forward through the opening. On traditional cowboy boots, the heel is angled when viewed from the side, although the more modern "roper" style features a squared-off heel. A slightly tapered toe made inserting the foot into the stirrup easier, but it is not necessary for such boots to be severely pointed at the toe; such a design is impractical and even unhealthy for the feet. The pull-on style made it fast and easy to get dressed and undressed.
Leather riding boots are tall to protect the rider's legs from rubbing uncomfortably against the saddle hardware. High shafts also protect the rider, when dismounted, against snakes, thorny bushes, mud, rocks, and snow, among other things. Cowboy boots are traditionally made of smooth leather, although suede boots are available as well as unusual animal skins. Many leather Western boots have intricate stitching, multicolored designs, stamping, or tooling (carving). Today's fashion "cowboy" boots may come in nontraditional colors and different profiles than are standard for riding boots. These attractive boots can be combined with an average wardrobe in a number of creative ways, eight of which are described below.
1. Down the Aisle
Many a country girl has worn her favorite pair of cowboy boots underneath a wedding gown at a Southern-style wedding. Even though it has been done before, the pairing is still unexpected. Keep the hair, makeup, and accessories mainstream to avoid a costume look.
Choose a brand-new pair of white or ivory Western boots especially for the occasion. Be sure the style of the gown or dress is somewhat appropriate; cowboy boots do not work well underneath a sleek, straight skirt or a mermaid shape. Under a voluminous skirt, boots are fine.
Wear a favorite pair of broken-in Western boots in traditional brown or black, but be sure the gown is long enough to cover them most of the time. Because the boots will be in view at times (perhaps while on the dance floor or when the groom is removing the garter), be sure to cover any scuffs and polish the boots to a shine.
2. Retro Style
Borrow some looks from yesteryear and take Western style boots for a rerun. Modern jewelry or other accessories can give these old-time outfits a touch of modernity.
Revisit the '80s: Wear a prairie-style blouse and skirt in a buffalo check and accessorize with a conch belt and boots. Keep jewelry simple and style hair in soft waves.
Revisit the '70s: Wear a denim mini skirt or denim cut-off shorts and a tight tank top with cowboy boots. Think Daisy Duke from "The Dukes of Hazzard." Make sure hair is long and loose or in a casual ponytail or braid.
Revisit the '60s: Dress in a geometric print mini shift dress and wear white cowboy boots in place of go-go boots.
3. Boho Chic
Hippie style might not be the first thing one thinks of in relation to cowboy boots, but the two can work together beautifully. Stick with Bohemian jewelry that incorporates sterling silver, large pendants on leather cords, semiprecious stones, and natural elements, such as shells or amber. Style hair long and straight, super curly and big, or in braids.
Pair a long broomstick skirt in a deep autumn shade, such as eggplant or russet, with brown cowboy boots. Top the look off with a long-sleeve top and a hand-knit or hand-crocheted vest.
Top tights or leggings with an ethnic-inspired print tunic; add a jean jacket and Western style boots in a matching color.
Wear bootcut or flare jeans with boots. Dress the upper half with a knit turtleneck and a poncho.
4. City Sleek
One does not need to live in the West, or the South, to pull off (or even put on) a pair of Western style boots. Decorative leather boots can look right at home with even the sleekest of attire. Maintain a sophisticated look with well-groomed hair and full makeup.
Wear a simple black dress with a pair of cowboy boots in a shiny metallic and a piece of bold metallic jewelry, such as a statement necklace or large hoop earrings.
Wear the same black dress with black fishnet tights and cowboy boots in an unexpected color: hot pink, turquoise, or acid green.
Try black leggings and cowboy boots with a loose top in a funky abstract print, sequined material, or a vivid hue: cobalt, magenta, or sunshine yellow.
5. Off to Work
Cowboy boots at the office? If the workplace is a creative or casual environment (or an oil company in Texas), then yes. Just keep the color neutral (brown, black, or gray) unless the job rewards risk-taking and innovation. Wear classic jewelry and a simple wristwatch to avoid overdoing it.
Many styles of knit dresses will work nicely with a pair of cowboy boots.
A long, flared brown or black skirt in a ponte knit can match Western style boots in the same shade; top these off with a structured knit jacket and a simple button-down shirt.
A long column skirt can work with boots as well; on top, add a pretty blouse and a cardigan sweater.
6. Coffee Perk
Whether it is a weekend brunch with friends or a casual coffee date, a pair of cowboy boots adds a touch of style to an outfit without looking too dressy.
A cozy, chunky sweater, cargo pants, and a long knit scarf will look great with cowboy boots.
Put on a short leather jacket in a bomber or blazer style over a feminine T-shirt or peasant-style top, along with jeans and boots.
A sweater dress and tights look great with Western style boots, giving the perfect mix of dress-up and dress-down.
7. East Meets West
Cowboy boots have been popular in Japan, and there is no reason why Asian style cannot be merged with Western classics.
Wear a manga- or anime-inspired short dress or jumper with black or white tights and black cowboy boots.
Try a red top with a black mini skirt and red boots.
Pair leggings with an oversized, unstructured sweater and cowboy boots.
8. Sunday Best
Heading to religious services or dinner with family may require dressing up, but there is no reason that Western boots cannot be part of the look.
Dress up in a long floral skirt, Western style boots, and a simple sweater.
Pair corduroy jeans in a boot cut with a soft silk blouse.
Mix bootcut jeans with a shirt or knit top and a long, belted leather jacket or coat.
Buying Western Style Boots
Western style fashion boots are available at specialty shoe stores and boutiques. Cowboy boots are also available at department stores, discount shoe outlets, and some discount chain stores. Authentic cowboy boots (that is, real work boots) are not recommended for street wear because they feature a slick sole to help a rider slide easily out of the stirrups during a throw or fall. This prevents serious injuries in horse riding situations; however, in real life, walking down a sidewalk or across a polished interior floor in a slick-soled shoe is a hazard. Many cowboy boots designed for everyday wear have slightly more traction on the sole, but even these can be relatively slick. Protect yourself by lightly rubbing the soles with sandpaper to roughen them; if this is not sufficient, attach special grip pads to the soles.
Buying Western Style Boots on eBay
You can find Western style boots from anywhere in the world on eBay. From the Fashion portal, go to Women ' s Shoes and select Boots, then pick Cowboy, Western from the style options. Depending on the style advice you wish to follow, you can sort the results very specifically by color; other sorting options include heel height, brand, size and width, price range, and condition (new or used).
As with any footwear, read listing descriptions carefully and look out for special notes regarding size, such as "marked Wide but fits like a Medium" and so on. Shoe sizes, unfortunately, are not standardized to the extent that you might believe or hope. All boots and shoes require a try-on and a walk-around before a final buying determination can be made, so be sure the seller offers a return policy to accommodate you.
Conclusion
Western style boots are not just for cowboys, or even boys. These boots have become an American classic that is worn the world over with a variety of fashions, and they look fresh and different on women because of the variety of outfits they can be mixed with. Whether she is getting married or relaxing for the weekend, any woman can work cowboy boots into her personal style for a fresh, all-American touch.