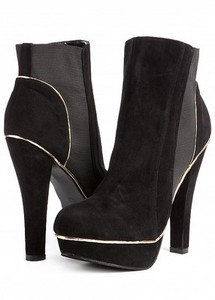 It is important to look one's best in any situation, and ankle boots are an asset to any wardrobe. However, one may not be aware of the various ways to wear ankle boots or how to wear them to illuminate the body in a confident way. This guide will discuss ankle boots, give various ways and styles one can choose with ankle boots, and provide the reader with seven different options that will be appealing for any body type. Ankle boots can accentuate different parts of the body, can be worn with various styles, and really bring out the life in a wardrobe.

Discover Ankle Boots
Ankle boots vary in length and style from booties to shoe boots. They are essentially a shoe that skims the ankle to boots that cover only the lower part of the calf. Ankle boots are currently the only type of fashion boots that are worn by both men and women. They have remained popular since the nineteenth century. These boots are typically worn as fashion boots under pants, but have recently been worn with various other outfits and styles.

Types of Ankle Boots
There are various styles of ankle boots. It is important to know the various types of ankle boots in order to know which way a boot can be worn with an outfit. The following table lists several fashion boots and their descriptions so that one can buy to build a boot collection to work with one's wardrobe:

| Ankle Boots | Description |
| --- | --- |
| | Pointy ankle boots are mostly all suave styles. The pointed toe with a stacked heel encourages an eminent statement in the fashion world. Pointy ankle boots should be polished and tapered to achieve a stylish look. |
| | Wedge ankle boots are boots that are made to equally distribute the body weight throughout the foot thus giving an increased height for a more feminine look. |
| | Stiletto ankle boots increase the height appearance of an individual. They are today's modern trend that helps to boost the sex-appeal of the wearer. They give a boost of self-esteem, power, supremacy, status, and grab a lot of attention. |
| | Platform ankle boots are those boots with bulky soles and high heels. To show themselves as a symbol of femininity, platform ankle boots are preferred by women in the fashion world for added height. They are usually paired with a miniskirt to give a fashionable look. |

There are various types of boots made from various materials with many patterns and styles. Ankle boots should complement the outfit one is wearing in a flattering way.

Watch this video to find out more about ankle boots:



7 Ways to Wear Them
Because the heights and styles of the ankle boots vary, there are certain ways one must wear them. Unlike cowboy boots or taller boots, the ankle boot can be worn with dresses, skirts, pants, tights, and shorts. The biggest consideration is pairing them with the right length clothing and wearing the right color of boots with an outfit. Ankle boots are hip, chic, and edgy, but one must know how to wear them:
1. Wear Ankle Boots with a Skirt or Dress
When choosing to wear ankle boots with a skirt or dress, it is important that the length of the skirt or dress fall at mid-thigh, to make the legs look slim and trim. Typically, the shorter the skirt or dress is, the longer the legs will look especially with a pair of black tights. However, wearing a dress or skirt that is long will make the legs look shorter. To make the legs look even longer, choose a stiletto type heel. The following are some stylish ways to wear ankle boots with a dress or skirt:
Wear high-rise ankle boots with a mini skirt or short dress. The higher the boot, the shorter the hemline should be.
For an edgy look, wear a pair of black or red ankle boots with chains or gemstones and a short feminine dress or bubble skirt that corresponds with the black or red. For red boots, a black or polka dot dress makes the boots pop. For black boots, most any color will do.
Add spice to the outfit by wearing a pair of tights underneath a short skirt or dress with a short-style ankle boot. A solid belt will slim the waist, and a long chain necklace adds to the overall look. Be sure the boot color and style compliments the tights and dress or skirt.
For a professional look, wear a flirty floral dress and a solid colored blazer that matches one of the colors in the dress with a pair of neutral colored ankle boots. To make an edgy after work look, add some jewelry and lose the blazer.
Wearing ankle boots with a skirt or a dress can be fun and leaves lots of room for creativity. Try a few outfits out and see what comes of it.
2. Ankle Boots with Pants or Leggings
When wearing ankle boots with pants or leggings, it is important to remember black is slimming, lengthening, and flattering. Therefore, black boots should be paired with black leggings or tights. Jeans should be dark wash for a more figure forgiving look. When wearing ankle boots with pants or leggings, one needs just the right outfit to give the legs a long slim look. The following are some sleek styles for wearing pants or leggings with ankle boots:
Wear ankle boots with skinny jeans. When wearing with skinny jeans, be sure to tuck the skinny jeans into the boots and wear a tight top or loose blouse. However, if the ankle boots are tight fitting around the ankle, choose pants that meet right at the top of the boot so one doesn't get that bunched up look.
Wear a pair of leggings with ankle boots. Leggings are a more casual look, so to complement that style, flat boots work best, though one can wear high-heeled ankle boots as well. A tunic top or long blouse finishes the look.
Wear ankle boots with skinny jeans and a dress. For an edgy look, one can get a pair of wild ankle boots such as animal prints, studded, or chained and belt a short dress over a pair of skinny jeans that either tuck into the ankle boots, or stop right at the top.
Wearing skinny jeans or leggings gives a more casual look to the ankle boot making more room to find comfortable yet stylish outfits.
3. Ankle Boots with Shorts
Wearing ankle boots with shorts may seem like a fashion no no, but in fact, it is a chic new look. Shorts and boots give a longer slimmer look to the legs, but one has to know what attire looks flattering. The wider the boot is around the ankle, the slimmer the legs look. The following styles will flatter the body when wearing ankle boots and shorts:
To show off some leg, a pair of cuffed shorts with a loose top style ankle boot will do the trick. To get an even longer leg look, stiletto heels make a more noticeable effect.
For a casual look, a pair of flat ankle boots with some cut off jean shorts can give a real cowgirl look. Try suede ankle boots to compliment the style.

Ways that Flatter Each Body Type
Because there are few people in the world who are naturally super model material, the latest fashion trends need to be modified to fit all body types. This is true even when it comes to wearing ankle boots as ankle boots can make a person's legs look shorter and wider or tall like a skyscraper and thin like a pencil. However, there are a few tricks for each body type that can allow women to wear ankle boots that flatter the body no matter what body type they have.
4. Shorter Slim Body Type
For those that have a slim body, but are lacking a little in the height department like supermodel Kate Moss, there are ways to wear ankle boots to achieve a long line. It is important for this body type to wear ankle boots with a heel to give some extra height as well as boots that cover the ankle instead of ones that stop right at the ankle. Ankle boots that stop at the ankle will make a shorter slim body choppy and short. Women with slim calves and ankles should also wear boots that are fitted around these areas as it will elongate the legs.
Finding the right style boot is essential; however, women of this body type also need to wear clothes that flatter the body with the boots. With a slim short body type, women have the advantage of showing off the sexy trim legs by wearing attire like bubble skirts, short dresses, or cuffed shorts. Another way to give the appearance of long legs is to wear a pair of opaque tights that match the boots.
Some various other cute pieces of clothing women with this body type can choose to wear would be: rompers, jumpsuits, dressy shorts, and dark denim miniskirts. Wearing the right outfit and style of boot makes a short slim woman look like a supermodel.
5. Petite and Curvy Body Type
For a petite and curvy body type, there are even ways that these women can wear ankle boots and still look fabulous. First, it is important that the boot a petite and curvy woman chooses be one with a pointed toe as this will give a long line look.
The style of the boot, however, is not as important as what women wear with the boot. For a flattering look, a petite and curvy woman can wear various options. For a voluminous look, an A - line skirt that ends right above the knee flatter the curve, however it is important that these women do not wear skirts that go past the knee with ankle boots as this will make them look even more impish.
If petite and curvy women want to wear ankle boots with jeans, dark wash denim jeans with a flared leg or wide leg are most slimming. In fact when wearing any color, darker colors slim the body more and illuminate the flattering curves. When wearing dress pants, it is important to wear black slacks with vertical lines as vertical lines give the illusion of slenderness and height.
Getting the right style ankle boot and the right outfit will magnify a woman's better assets while giving an illusion of height.
6. Tall Curvy Body Type
For a woman who is tall, but has a little more meat to offer than a super thin model, she may not be worried about looking short, but about the legs looking thicker. For women that have thicker calves, they should not wear ankle boots with cuff details or embellishments that emphasize the leg. This body type needs ankle boots that do not conform to the calf and flair out at the bottom as to flatter the leg.
Once the woman of this body type knows the style of ankle boots to choose, it is crucial that the attire worn with the boots be flattering to the body as well. Pair dark wash jeans with flared or wide legs or try dark colored capris. Wearing a long tunic or semi-voluminous dress with dark tights will add uniqueness to the style as well as slenderize the legs making them look shapely and sexy. Wearing a baby doll style shirt also helps bring the eyes away from the calves and disguises the tummy giving a more slender appearance.
Choosing ankle boots to slim the legs and clothes to slim the body will help the tall curvy woman to look sleek and slender.
7. Tall and Slim Body Type
If a woman happens to have a tall and slim body type, she has unlimited options when it comes to choosing a pair of ankle boots.
A tall and slim body type can also have freedom in choosing various outfits to wear with her ankle boots. However, just because she has that freedom, doesn't mean skirts or dresses below the knee work with ankle boots. It is important to choose skirts, shorts, capris, and dresses that end right above the knee for a more flattering look. For an edgy look, a pencil skirt with a slit and some daring ankle boots would do the trick. Capris right above the knee with a pair of corresponding ankle boots also look great. But, in all reality this tall and slim body can have fun experimenting with various styles.

How to Buy Ankle Boots on eBay
There are various shoe stores where you can purchase ankle boots, but eBay gives you the luxury of sitting at home looking at your wardrobe while picking out ankle boots to go with it.
To find ankle boots on eBay, you can simply type in the style, color, or type of ankle boot you want. For example, you can type "red ankle boots" into the search box and find an array of results. To narrow down your search, you can use the categories such as "Women's shoes" or "Vintage" to find various styles of ankle boots.
Once you have found a pair of boots you like, be sure to get to know the seller. You can do this by asking the seller questions about the boots such as what material the boots are made of or what the exact color of the boots is. You can also look at the seller's ratings and reviews. Doing this increases your chances of finding the perfect shoe for your wardrobe.

Conclusion
There are various ankle boots on the market today. Some are edgy, some are classy, and some are casual. The biggest factor in wearing ankle boots is knowing how to wear them with style. There are cute, professional, and edgy ways to wear ankle boots depending on what you wear them with. It is important, however, that a woman wears her ankle boots in a way that flatters her body. Just because her body isn't that perfect supermodel shape, doesn't mean she can't get a flattering look in a pair of ankle boots.