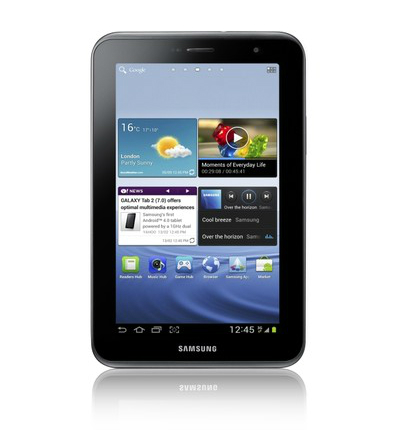 It was not until the launch of Apple's iPad in early 2010 that the market for multimedia tablets really emerged. Since then, nearly every major manufacturer of computers and electronics followed suit with their own tablet varieties. Tablets are much thinner and more lightweight than netbooks and even the smallest of laptops, making them ideal for travel.
Choosing a multimedia tablet is tricky with so many options on the market. While all tablets essentially offer the same functionality, each model has its own specifics when it comes to battery life, external port options, screen size, and other features that buyers often look for. Consumers should keep in mind that just like buying new computers or televisions, there are many different things to consider before purchasing a multimedia tablet.
What to Look for in a Multimedia Tablet
When consumers decide to purchase a multimedia tablet, they are often overwhelmed with the options available. No matter the brand, a list details should be examined before purchase. The device specifics to look at include the screen size and resolution, the operating system, the wireless connection, the storage space available, the battery life, inputs and outputs, and if the devices has a camera.
1. Screen Size
The screen size and its display are the most important factors in buying a tablet. Typing and tapping selections are easier and more comfortable on a larger-screened tablet. With that said, there are users who prefer smaller, more compact tablets for portability and stowing capabilities, seeing as a larger screen denotes a heavier overall weight. Large screen tablets are also typically more expensive than the smaller options, which can be a factor when it comes to purchasing.
Resolution
When it comes to resolution, a screen's dot pitch, which measures its resolution against its size, is the stat to look for. A tablet with more pixels per square inch has a sharper resolution and makes movies look sharper and Web text clearer. Brightness, color depth, and contrast of the screen can always be adjusted according to preference.
Tablet screens also differ in terms of texture. Shiny, glossy screens rule the market, but have some setbacks when it comes to sunlight glare and fingerprint smudging. Some brands have options for a matte finish, which can make reading e-books and online text easier. Multimedia tablet users should consider purchasing a clear, adhesive screen protector to keep the screen free of scratches and help with glare.
| Brand | Model | Screen Size | Resolution |
| --- | --- | --- | --- |
| | Nexus 10 | 10.1 inches | 2560 x 1600 |
| Acer | Iconia A700 | 10.1 inches | 1920 x 1200 |
| Apple | iPad 4 | 9.7 inches | 2048 x 1536 |
| Archos | Titanium HD | 9.7 inches | 2048 x 1536 |
The above chart contains examples of tablets that have some of the largest screen displays and highest resolutions available on the market. There are several other models that have screen sizes pushing 10 inches with impressive screen displays, but generally speaking the smaller the screen, the poorer quality the resolution.
2. Operating System
Prospective tablet users must decide between Apple's iOS operating system and the Android system used by Google. Each system has its advantages and setbacks, which are largely determined by user preference and necessity. Consumers should also look for tablets that use a dual processor to power the device.
Perhaps the most recognizable disadvantage of iOS is its inability to support Adobe Flash, which limits the content and media users can upload from the Internet. Ultimately there are more Android devices to choose from than iPads, meaning there is more room to compare the different capabilities between different Android devices. Both Android and Apple devices have a large selection of applications, but Apple's App Store is much more refined and the applications are less prone to bugs.
3. Wireless Connection
Virtually every multimedia tablet has Wi-Fi capability, but models differ when it comes to speed. Older model tablets may still use the 802.11b/g speed when it comes to Wi-Fi computing, but users intending on streaming media and downloading large files should look for tablets using the 802.11/n speed for optimal performance.
While most tablets have built in Wi-Fi, some come with the 3G option or the 4G option: Internet access for constant connection when out of range of Wi-Fi hotspots. An additional contract plan is required for either option and coverage may vary from location to location. Having a 3G/4G connection enables a multimedia tablet to act as a navigation system, which is useful for traveling, given the larger screen size than most GPS devices and cell phone screens.
4. Storage Space
Just like with computers, laptops, cell phones, and MP3 players, there is never too much storage space on a multimedia tablet. The more a tablet is used to store movies, music, and other media, the more hard drive space it requires. As with other devices, the more flash-based RAM memory used in a tablet makes it more expensive, which limits most devices to smaller quantities compared to netbooks and laptops. Consumers should consider purchasing tablets that have slots for SD and microSD cards, which significantly increases the storage space and makes data transferable between multiple devices.
5. Inputs and Outputs
Multimedia tablets are designed to be as thin and portable as possible. For that reason, most devices are limited to the standard 3.5 mm headphone jack, the charger input, and occasionally one USB port. The iPad does not have a USB port and is thus limited to accessories compatible with its universal docking port.
A select few tablets have HDMI ports allowing connection to televisions, which may be useful for some users who intend on replacing their desktop computer or laptop with a new multimedia tablet as their primary media device. When certain ports are lacking, external accessories are available from some manufacturers to enable transference of certain media. Apple makes a VGA connector for syncing an iPad to an external monitor, and the Archos G9 tablet can be hooked up to a port replicator for VGA, Ethernet, and USB connection.
6. Battery Life
Battery life is an essential component of a multimedia tablet, especially one that undergoes heavy use. Consumers should always look for tablets with maximum battery life to prevent always having to be near an outlet to charge the device.
Archos has three tablet models that boast an industry-leading 20 or more hours of life on a single charge. The Samsung Galaxy Tab 7.7 registers 13 hours of battery life, while the iPad 2 provides 10 hours. Some tablets like the HP Slate only provide 5 hours of usage on a single charge, while other models exist with even less potential life. The amount of life a tablet provides is largely dependent on what the tablet is being used for. Extensive use of applications and media streaming limits the life of a tablet when running on battery.
7. Camera
Many tablets are produced with one or more cameras. The iPad 2 has a front and rear-facing camera, as do many Android devices. Cameras enable a multimedia tablet to take pictures, record video, and use video messaging applications like Skype for video calling. Typically, the devices that have a higher quality screen resolution have cameras capable of taking the clearest pictures and optimal video in high-definition 720p.
Buying a Multimedia Tablet on eBay
eBay offers a comprehensive and secure shopping experience on many products, including multimedia tablets. Searching for the perfect multimedia tablet on the site is easy with a keyword search. If you know exactly what you are looking for, such as an Android tablet with a 10-inch screen , simply type those exact words into the search box on any page within the site.
For a closer look and to compare different tablets returned in that listing, click on a product link for a more detailed product description, additional photos, and any comments from the seller pertaining to the product. When you complete your transaction, return to the seller's page and leave positive feedback.
Conclusion
Every consumer has their individual preferences when it comes to a multimedia tablet's features. However, the basic features, such as screen size, wireless connection, and battery life, among others should be focused on when deciding on a tablet to purchase.
Consumers should focus on buying a tablet that is comfortable in their hands, easy to interact with, has a quality screen display, and is of ample size for what they plan to use the device for, such as traveling or just checking email. These are a few of the basic considerations that divide users between different brands and models of multimedia tablets.