6 Tips for Buying 100% Authentic Merchandise Online

#1 Pictures, as they say, are worth a thousand words, that is why we take quality detailed pictures.
A. +Look for close up pictures taken by the seller especially the tag and the bar code on the tag.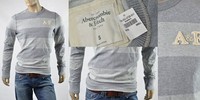 Example of listings with good pictures

B. -Beware of sellers that use stock photos or unclear photos. If the seller doesn't take any pictures of the items they sell how do you know what you are going to get?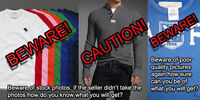 #2 Description;
A. +Look for well written accurate descriptions.
B. -Beware of poor misinformed or inaccurate descriptions.
#3 Price; if a seller can sell it for dirt cheap, ask yourself why?
Regardless of what anybody tells you if they are not making money they wouldn't be selling it. Calculate item cost, eBay listing fees, selling fees, PayPal selling fees, shipping costs(for sellers offering free shipping) income tax, plus standard business costs and losses. Then ask yourself what's left? If they are selling it dirt cheap good chance it is a cheap knock off.
A. +Look for fair consistent prices.
B. -Beware of prices that look too good to be true.

#4 Seller location, this is a big one.

We are not saying that products that are made in China are fake. On the contrary many companies have factories manufacturing for them in China, Vietnam, Poland, Turkey, Great Brittan, The United States... well there are factories around the world. Where a product is made and where it is sold is typically not the same place. Take A&F for example they have factories in China, Vietnam, India, Cambodia, Turkey and many other locations around the world, however they do not sell their clothing in any of those locations. Have you ever seen a store while vacationing in any of those locations? No, because they are produced there then exported. For Example; let 's say Brand A only sells to the US, Canada, Japan, Italy, The UK, and Denmark. So if you see a seller selling Brand A products and their location is in a country that it is not sold in, beware.
A. +Look for the sellers location to be in a country where the items are sold (retailed).
B. -Beware of sellers located in countries where the items are not sold or countries known for making counterfeit items. It is a multi-billion dollar industry!

#5 Use common sense, if it looks fake or too good to be true well... it might not be true. So ask the seller questions.

A. +Use your common sense, if you were born without any, ask a friend who does have some to spare.
B. -Beware of items that look too good to be true.
#6 Feedback: look over the sellers feedback, if they don't have any be careful!
A. +Look for a good volume of positive feedback, don't worry if a seller with thousands of positive feedback has a few negative ones. It is almost unavoidable.
B. -Beware of sellers with a low volume of feedback or with a high percent of negative feedback and as always look through their feedback to see what other buyers had to say about the seller.