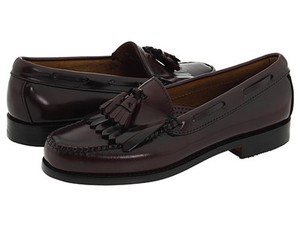 When a woman puts an outfit together, she thinks about the ensemble from head to toe. To make an outfit complete, it takes more than matching the components and ironing the clothing. It's important to keep shoes in good shape, so women should take time to perfect their outfits by shining their shoes.
Formal occasions and business situations may require formal attire. Scuffed shoes would stand out and potentially create a negative impression in these situations.
It's recommended that shoes be shined upon purchase, then on a regular schedule after. Preventative maintenance, as well as proper care of shoes in general, will ensure a longer-lasting pair of shoes.
Women may choose to pay someone else to shine their shoes, or they could use these tips to make shoes look great.
Tip 1: Pick the Right Shoe Polish
There are three types of shoe polish to choose from: cream or paste, wax and liquid polish. Choose the appropriate polish for the task at hand.
Cream or Paste Polish
Cream or paste polishes, both of which contain mineral oil, keep fine leather soft and flexible. It soaks into the leather and allows it to breathe. Although this type of polish is not ideal for covering scuffs, it does help to restore the color of the shoe.
Wax Polish
Wax polish is the most effective for covering scuffs, and it shines leather better than creams. However, the wax seals the leather and can cause it to dry out over time. Most wax polishes contain Stoddard Solvent or turpentine plus carnauba or beeswax.
Liquid Polish
Liquid polish may shine shoes quickly; however, it can dry out and crack leather and generally should be avoided.
Tip 2: Prepare the Tools and Work Area
A shoe shine kit is a must-have item for a woman to keep on hand. This does not have to be an expensive kit, but it should contain some important elements. Each element may be purchased separately and simply stored together for ease of use when needed.
Items that should be in a purchased or put in a homemade kit include polish, a horsehair applicator, a horsehair brush, and a buffing cloth.
It is a good idea to wear dark colored clothing when shining shoes, as the polish may stain clothing and is very difficult to remove, if at all. Ideally shining shoes will be done before getting dressed, especially when wearing more formal attire. Women should wash their hands after shining shoes.
Once the tools are prepared and the woman is dressed for the job, she should clear an area and put down newspapers to ensure materials do not mark floors or furniture. Polish is difficult, if not nearly impossible, to remove from furniture once stained.
Tip 3: Prepare the Shoes
To prepare the shoes for a shine, remove any dirt or debris from them using an up and down and side to side motion. This can be done with a moist towel or a dry one, depending on how much dirt is on the shoes. Note that if a shoe does get too wet, polish will not be effective. Use minimal water and dry the shoes completely. When women are in a hurry and don't have time to wait for the shoes to dry, the shoes may be wiped down without water.
If there are deep scuffs or watermarks on the shoes, it is best to strip off the old polish first. This can be attempted with vodka or rubbing alcohol; however, it is recommended that this be done by an expert in a shoe repair shop.
Tip 4: Polish the Shoes
When it's time to begin polishing shoes, wrap the corner of a cloth around the first and second fingers of the dominant hand. Twist the remainder of the cloth to tighten the portion around the fingers, and hold that part of the cloth in the palm of the hand. Place a small amount of polish on the cloth by scooping the covered fingers into the polish.
Apply polish directly to the shoes. Use a matching color for each pair of dress shoes owned; neutral is the color used for light-colored shoes. Spread the polish all over the shoes, concentrating most on the toe and heel of the shoe. Start from the heel and move to the toe on one side, then back to the heel on the other side. Apply polish evenly in a circular motion until the shoe appears cloudy. Applying excess polish is not advised.
Once the shoes are dry, take a horsehair brush and buff the shoe with the brush. Try to remove the areas that appear wet until the shoes begin to shine. When the desired shine is achieved, it is time to stop brushing.
Some women may take the shoe shine one step further and take a buffing cloth and rub it on the shoe. Apply 3 to 4 clean drops of water on each shoe, then polish them with a clean buffing cloth. Avoid adding too much water, as it could strip off the wax polish. A buffing cloth may be an old T-shirt, sock, or towel. Women should place the shoe on first, then rub the cloth along the shoe. This step may be repeated until the ideal results are achieved.
Tip 5: Maintain the Shine
Once shoes are shined, there are ways to keep them well maintained.
Applying a leather waterproofer not only will prevent water from staining the material, but it will also keep spots off. Leather waterproofing is a simple process. Simply spray the product onto the shoe and let it dry. This is an inexpensive tool that will protect a woman's investment in her shoes. Waterproofing is especially important for those who live in tropical areas or areas that experience a lot of rain or snow.
Although it is no substitute for a real hand shine, using quick shine wipes are good for a quick touch-up before a meeting or event. Quick shine wipes contain a bit of shoe cleaning materials in a handy little packet.
Use a leather conditioner, like Kiwi ' s Leather Cleaner and Conditioner, to keep shoes and other leather items soft. Leather conditioners contain jojoba oil and coconut oil.
Store shoes in a room temperature closet, as warmer temperatures may shrink leather. Shoes should always be dry before being placed back in their boxes, otherwise odor, bacteria, mold, and mildew could form.
If shoes are not stored in a box, store them in felt or cotton shoe bags, which allow leather to breathe. Plastic bags will dry leather out. Shoes may also be placed on a rack, but care should be taken to ensure shoes to not touch each other.
Finally, rotate use of shoes and resist the urge to wear the same pair of shoes every day. Most footwear benefits from the opportunity to air out and breathe, as well as recover their shape.
How to Buy Shoe Shine Supplies on eBay
As mentioned, you have many options when looking for shoe shine materials. You may either purchase a full shoe shine kit, or you can purchase individual items and create your own kit. To begin your search for shoe shine products, either type in relevant keywords such as "shoe shine kit," "shoe shine," or individual products like "horsehair brush" and "shoe paste polish" in the search box on eBay. You may also search in the Fashion category and use the search box within that category to narrow down your results.
Review the list of products available. By clicking on the listing for the item, you can read a more complete description, and where the product may be coming from as to determine shipping times and rates. If you have any questions about the item, you have the option to contact the seller to do so.
Knowing the seller's online reputation is also important. By clicking on the seller's name, you will have access to customer feedback given on past transactions. Sellers listed as PowerSellers on eBay are among the most trusted, as the title is only given to those who sell more than USD 1,000 of merchandise each month and maintain a customer service rating of 96 percent positive or higher.
Conclusion
Having shined shoes is no longer expected from those outside of the military, but it does show others that a woman really goes the extra mile. Properly shined shoes not only help to extend the life of a pair of shoes, it also puts the finishing touch on a complete ensemble. Shining shoes may be done by professionals at a shoe store, or done at home.
Women may purchase a complete shoe shine kit, or the individual components of a kit may be purchased and put into a homemade kit. If purchased individually, it is a good idea to keep all shoe shine products together so that everything necessary to complete a shoe shine is available in one place.
Shining shoes is not a difficult process, but it is recommended that enough time is allotted to clean, polish, allow the shoes to dry, shine, and buff shoes. If leather shoes are shined on a regular basis and properly cared for, the leather will remain soft and supple.
Once shoes are shined, using products such as waterproofers or leather conditioners will further ensure the shoes remain in good shape for the owner for a long time.