With so many rookie card products out there and not enough money to buy them all, it is important for the savvy collector to make sure he/she is getting the most bang for the buck as possible. Below are some tips to choose the right items that tend to hold or grow in value better than their counterparts.
1. Stick to the major brands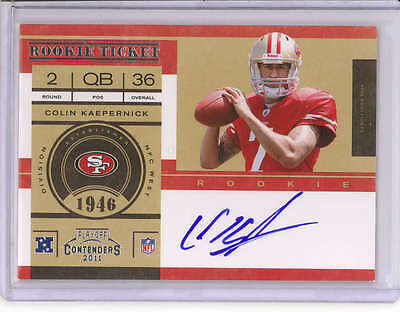 Brands such as Contenders, National Treasures Topps Chrome, SP Authentic, and Exquisite are perennial choices for a "must have" rookie autograph.

From an investment perspective, Contenders is a product that tends to give the highest multiplier for players whose cards suddenly explode in value.
For example, Colin Kaepernick Contenders were readily available for $10-$15 when he was the backup QB. They are consistently selling at $150 a piece. Comparatively, his Gold Standard RC Auto 3-Color Patch /525 was originally selling in a higher price rang and now sells under $100.
---
2. Only buy parallels of the base version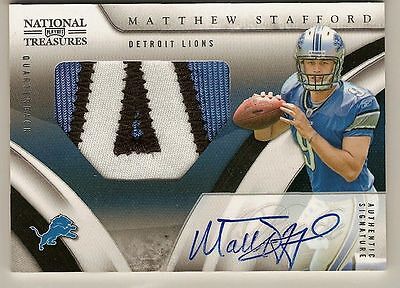 The tenant of sticking to major brands only works if you buy the corresponding parallels when looking for a rarer or premium card.
Demonstrating this, a Matthew Stafford 2009 National Treasures Colossal Auto 3-Color Patch /10 sold for just over $200 when his base rookie Auto 3-Color Patch /99 consistently sells over that amount (even with a bubbly autograph). When they do appear, his /25 gold parallel of the base version gets a 1.5X premium.
---
3. Timing is everything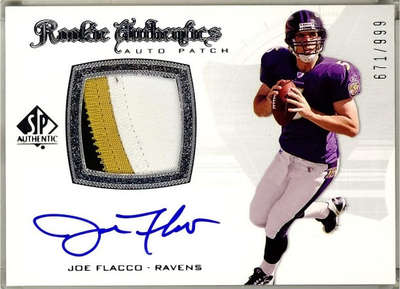 Every year, people clamor over the "new hot rookie" and immediately overpay for the new "must have" items.
If you truly want something, patience can pay off. This can be seen with a Joe Flacco SP Authentic Auto 3-Color Patch /999. Upon release, this card was selling over $200. After the Ravens won the Super Bowl, when cards for the winning QB are sky high, the same card was selling at $150. At the moment, the Joe Flacco card can be had under $100, despite the success the QB has had.
---
4. The scarcer the parallel, the greater incremental jump in value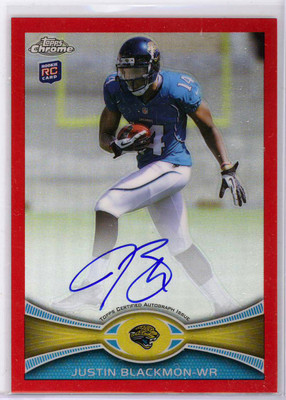 If you are deciding between buying that rookie autograph /25 versus the one /10, you may have to open up your wallet quite a bit to pay for scarcity.

This is particularly evident with Topps Chrome autograph parallels. In August, a Justin Blackmon Topps Chrome Black Refractor Auto /25 could be had for $75. During the same time, the Gold Refractor Auto /10 sold for over $130. While this may seem like a big jump, the gap is even more stratified by the fact that his Red Refractor Auto /5 was selling for more than 2.5X the Gold Refractor when available for sale.

If you see parallels of a player you believe in selling for relatively close amounts, it's worth buying the better version. When prices increase, the gap in value spreads further and further.
---
5. Don't ignore multi-colored patch and special serial number premiums

Cards often sell higher when a jersey piece looks nicer or if the serial numbering corresponds to the first one made, last one made, or the player's jersey number.

Case Keenum's SP Authentic Auto 2-Color Patch 7/885, corresponding to his college and professional uniform number, initially sold for just over $25 when others were selling for $15-$20. Since being named starter, these have increased in value to $40-$50 each. Showing the power of the serial number, the 7/885 recently resold for $125.
---
Thank you for viewing this guide. While it does have a focus on Football cards, many of the same principles can be applied to other sports as well. Please feel free to contact me with any questions. I myself am an avid collector who has built a strong collection through these techniques.