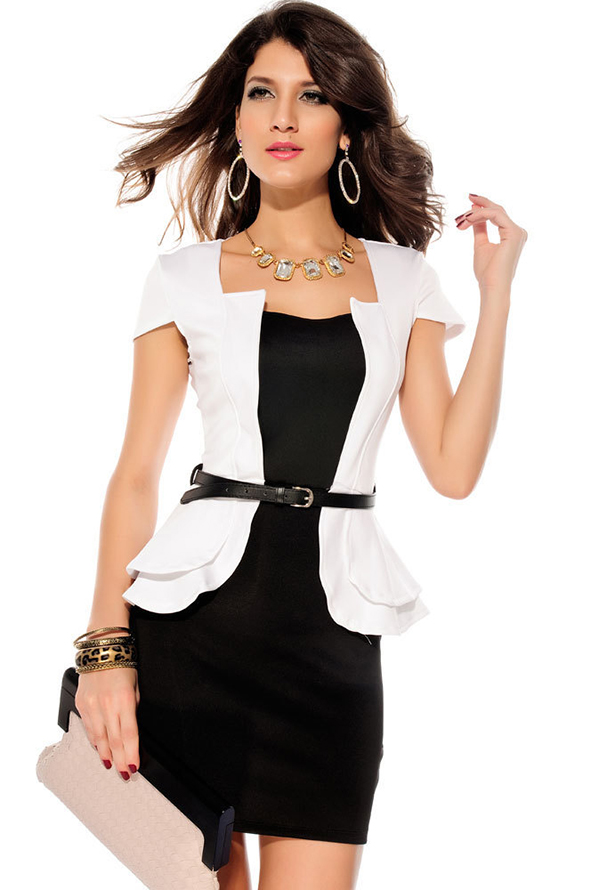 Choosing an office-approved dress style is important for many women. In some offices, company policy dictates the style of the dress the company allows in the workplace. This may include informing women of the acceptable lengths for the hemline or neckline. A professional, yet stylish, chic, and flattering dress for the office is most often the look women wish to find. Neutral designs are safe styles to choose, however, one can add some punch with deep rich colors, patterns, and jewel tones. It is the desire of many working women to create a look that can go from 9-to-5, and then transform into an evening dress for a romantic rendezvous or important business dinner. Researching the different styles of women's dresses available in retail stores may help narrow the choices. Office-approved dress styles from a variety of brand names are also available on eBay.
1. Pencil Dress
The pencil dress is straight-fit dress with a narrow cut. It hits just at the knee lengthwise, and may come with sleeveless, chunky shoulder straps, capped sleeves, or 3/4-inch sleeves. The neckline of the pencil dress varies too. Some necklines extend up to the collarbone, while others expose the neck with a square or deep v-neck plunging line. Pencil dresses are available in a variety of colors and made with polyester, lace, or a cotton blend. Brands that include pencil style dresses in their line include Adrianna Papell,Bettie Page, and JS Collections.
2. Business Dress Suit
This style of dress is formal and professional enough for any office setting. The business dress suit can come in two different versions: a straight dress with a jacket or a blouse, or a pencil skirt and jacket combination. The colors are endless for business dress suits. Standard black, navy, gray, and brown offer the classic look, while maroon, red, coral, and pink offer a hint of color. Fabrics that business dress suits are available in include polyester, cotton, rayon, and wool. Popular brands of business dress suits includeAnne Klein,Kasper, and Le Suit.
3. Print Dresses
Print dresses for the office are more than just loud floral prints. These dresses include subtle animal prints or geometric patterns. One can pair this style of dress with a cardigan for chilly days either in the office or outside. Print dresses vary in lengths, from just above the knee to the ankle. These dresses include long sleeves, sleeveless, cropped sleeves, or 3/4-inch sleeves depending on the dress one chooses. The print on print dresses comes in a variety of materials including polyester, rayon, linen, cotton, and chiffon.Kenneth Cole,Liz Claiborne, and Banana Republic brands all have print dresses suitable to wear in the office.
4. Sheath Dress
Similar to the pencil dress, the sheath dress is a little less form-fitting. This style dress often comes with a thin belt at the waistline. A sheath dress design may include sleeveless or cropped sleeves with a hemline just at the knee. This style of dress can go from the office to a night on the town with no trouble. These dresses come in a variety of colors and patterns, making them easy to match with shoes and other accessories. Sheath dress materials include cotton blends, silk, 100 percent cotton, polyester, satin, linen, nylon, and velvet. Brands of sheath dresses include Laundry, London Times, and Black Halo.
5. A-line Dress
The classic lines of an A-line dress fit any office setting. This style of dress is a standard in many women's wardrobes. A-line dresses are available in a number of lengths including knee-length, mid-calf, and full-length. This style of dress flatters many body types, which makes it a versatile choice. The neckline on an A-line varies between scooped, square, and sweetheart. A-line dresses come in cotton, silk, lace, polyester, satin, twill, and rayon. Brands such as AGB,NY Collection, and J. Crew offer a variety of A-line dresses.
Finding the Right Size Dress
The right size dress is important to the overall look of the dress on one's body. Since all women's bodies vary, a size chart is helpful to find the dress size that matches certain measurements.
| Size | Bust | Waist | Hip |
| --- | --- | --- | --- |
| | Less than 32 inches | Less than 26 inches | 33.5 inches |
| 4 (small) | 32 to 34 inches | 26 to 28 inches | 35.5 inches |
| 6 (medium) | 34 to 35.5 inches | 28 to 29 inches | 36.5 inches |
| 8 (medium) | 35.5 to 37 inches | 29 to 30 inches | 37.5 inches |
| 10 (large) | 37 to 38.5 inches | 30 to 31 inches | 38.5 inches |
| 12 (large) | 38.5 to 40 inches | 31 to 32.5 inches | 40 inches |
| 14 (XL) | 40 to 41.5 inches | 32.5 to 34 inches | 41.5 inches |
| 16 (XL) | 41.5 to 42.5 inches | 34 to 36 inches | 43 inches |
| 18 (XXL) | 42.5 to 44 inches | 36 to 38 inches | 45 inches |
| 20 (XXL) | 44 to 45.5 inches | 38 to 40 inches | 47 inches |
For women who are between sizes, choosing the closest size to their measurements does provide an adequate fit. Choosing a size that is one size smaller may make the dress fit too snugly.
Tips for Taking Care of Dresses
Food and liquid accidents on a dress do happen to most women, unfortunately. The best way to take care of a dress is to first follow the interior label instructions from the manufacturer. Certain materials require extra care, such as dry cleaning instead of washing at home. Ideally, the wearer can fix these spills through immediate attention. If the consumer is in a restaurant, she should ask for club soda to dab on the stain to prevent setting. Another handy item women can carry in their purse is a stain stick. However, stain sticks do not work on all fabrics, so the wearer should again read labels carefully. Taking care of the dress ensures it is ready each time one wants to wear it and the likelihood of it turning into a one-time dress lessens.
How to Buy an Office-Approved Style of Dress on eBay
To buy an office-approved dress on eBay, first determine your correct dress size. To search for a dress on eBay, type " dresses" into the search bar on any page. More than likely your search results in thousands of choices. If you know the specific style or brand of dress you are looking for, type it in the search bar. You can narrow your choices by color, size, dress length, condition, or material. Make sure to read the seller's description of the dress to determine if the dress is what you would like to purchase. If you have questions, contact the seller. If you find used dresses and are unsure of the condition, ask how the dress was stored and if there are any noticeable fabric pulls or discoloration in the material. Try to avoid buying dresses that come from smoke-filled rooms or damp areas.
Conclusion
The perfect office-approved dress is one that makes a woman confident in her appearance. The style one chooses should compliment the office attire that is acceptable within the company's guidelines. Short dresses, often cut way above the knee, and low-plunging necklines are never the best dress style to pick for a professional look. Picking a certain color or a patterned dress keeps the look of the office dress far from drab and boring. Bright colors like oranges and aqua tones break up the monotony of the standard blacks and blues often seen in the workplace. Pairing matching accessories, shoes, and purses with a business dress give a sense of flair and individuality. Wearing a dress that goes from the office to a date provides the professional woman with time to focus on her career and relationships, rather than seeking out something else in her closet.