For collectors of Lapel Pins these little enamel metal pieces are priceless works of art. Luckily for sellers the lapel pins do not have to be crated and shipped by truck like fine framed portraits! But they do require more than tossing into a bubble mailer or manila envelope. Not adequately protecting lapel pins may lead to their being crushed or damaged by postal machinery.
The key element is to pad the lapel pin and make it thick enough as to not go through the postal machinery. This can be done through tissue paper or paper towels, but it is better to use bubble wrap. Bubble wrap will not flatten out like tissue paper or paper towels. But in a pinch use these household products versus nothing!
Failure to properly protect the item may lead to your customer receiving the item in this condition.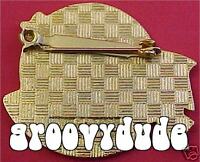 To avoid this, follow these 4 simple steps:
Place each pin in an individual bag if you can.

Cut 12 x 12 strips of bubble wrap into smaller sections (4-6).


Start with pin front side down and start rolling the pin up into the bubble wrap. For extra post protection roll up the end about 2 inches around itself, creating a little height to start with...then I stick that on the pin back BESIDE (not on) the post. This protects the post from outside pressures.



Secure the rolled pin with regular tape.


Many people will mummify the pin at this point and put tape on both ends, but I have found this to be unnecessary. Mummifying also makes it harder to unwrap.
These are the 4 easy steps you need to take to help assure your product will be received safely. While you should always recommend Insurance, using this process will at least let you feel that you have done your best to prepare the label pin for safe shipping.
Your customer should also be happy and impressed that you have spent the little extra time to do this process. Happy customers mean repeat business! So, happy selling. And better yet, Happy Safe Shipping!