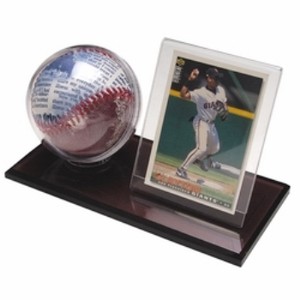 Baseball cards are the most well-known type of collectible sports card. The first commercial cards were made in 1886 and were included in cigarette packs as stiffeners. Producers included Goodwin & Co., Allen & Ginter, Buchner & Co., Mayo & Co., and Kimball. However, by the late 1890s a number of tobacco companies merged to form the American Tobacco Company, effectively creating a monopoly and significantly curbing competition. This led to a decrease in baseball card production as the company no longer had any incentive to attract customers with collectible sets. In the early 1900s the U.S. government broke up the monopoly and the production of cards resumed.
Many collectors consider the 1909 to 1915 period the golden age of baseball cards. Cards were then produced by both tobacco and candy companies, and more appealing, higher quality cards were available. This era saw the release of the famous T206 White Borders set, produced from 1909 to 1911, featuring the rare T206 Honus Wagner card. Wagner demanded licensing fees for the use of his image, causing producers to remove his card after a very short run. By 1921 production by tobacco companies was again reduced because of the First World War, but candy and gum makers increased their production to meet demand. In 1933, The Goudey Gum Company released numbered cards for easy collecting.
The Second World War brought with it a scarcity of paper. Between 1941 and 1947 fewer cards were made and a lower quality of paper was used. In 1948, Bowman produced its first set, with Leaf following suit for the 1948 to 1949 season. Topps Gum released their first set of cards shortly thereafter, in 1952. The set was made up of 407 cards, including a Mickey Mantle rookie card. In 1956, Topps bought Bowman, establishing a monopoly that lasted until 1981. In the early 1980s, other card manufacturers successfully challenged Topps' monopoly in court. This allowed Fleer and Donruss to enter the market, with Score entering the market in 1988, and Pacific joining production from 1994 to 2001. From 1999, small pieces of game-worn jerseys were included with some cards. In 2005, Fleer declared bankruptcy and was bought by Upper Deck. By 2006, Topps and Upper Deck became the only manufacturers licensed by Major League Baseball to make and sell baseball cards.
Today, the value of a baseball card is influenced by three factors: the card's condition, its rarity, and the player pictured. To establish the condition of cards, owners often have them graded by third party professionals. In some cases, this increases the book value of the card, but this generally holds true only for high profile cards or cards that are in high demand.
1. Card Condition and Grading
The condition of a card is evaluated by looking at characteristics like the corners, edges, surfaces, and manufacturing quality. Cards with a higher book or rarity value are more likely to be graded than common cards and one must use common sense when having cards graded. Grading a common card may add a mere $2 to its value, and the grading fee would likely cost more than the added value. However, in some cases grading increases the card value 30 to 50 times.
The four most trusted grading companies are:
Professional Sports Authenticators (PSA), the innovators of the 10-point grading scale and the longest running grading company;
Beckett Grading Services (BGS), also users of the 10-point scale and believed by some to have the strictest grading standards in the industry;
Global Authority, Inc. (GAI), founded by two former PSA employees who also advocate use of the 10-point system; and
Sportscard Guaranty (SGC), which rates cards on a scale from 10 to 100, but usually includes the equivalent 10-point grade for ease of reference.
While every company uses its own standards, guidelines, and methods, standards are similar from company to company. Guidelines are usually published on companies' websites. Each allows a set number of flaws per grade, but top rated cards are in near perfect condition across the board. Grading is based on:
Centering: the better the centering, the better the card's grade. Centering imperfections should not detract from the card's aesthetic appeal, and front centering is more important than back centering.
Printing: cards are judged on the presence of lines, registration errors, marks, and spots.
Focus: the image's focus should be crisp and clear, with lower gradings showing imperfect focus.
Corners and edges: corners should be sharp, with no wear or fraying, while edges should be smooth, without dents, tears, or chips.
Flaws: common flaws include breaks in the gloss, stains, wear, ink or pencil marks, tape or tape marks, discoloration, pin holes, creases, and tears.
Most graders will not grade cards that have been tampered with or cards with questionable authenticity. High end baseball cards found at hobby shops, or available from collectors and online auction sites like eBay, are graded by sellers before they are sold. eBay has joined forces with third party professionals to offer buyers and sellers an unbiased authentication and grading service.
2. Cards' Rarity Value
Cards that are in high demand but low supply are considered rare and are usually more valuable than common cards. Vintage cards produced before 1970 are generally harder to find as many have been lost or damaged over time. Although cards featuring legendary players are usually more valuable, some older cards featuring obscure players may be desirable to those who want to complete a set. Additionally, insert cards and alternates, unique (1/1) cards, special editions, autographed cards, and cards that were issued with memorabilia are harder to come by. As with the T206 Honus Wagner card discussed previously, cards with a short run often fetch higher prices.
3. The Player Pictured
The value of a baseball card is greatly influenced by the player pictured, as well as the current point in his career, his achievements and performance, and news coverage. Stars and legends command the highest price, with rookie cards being the most valuable. Some collectors buy rookie cards of new players in the hope that they reach legendary status later in their careers. Cards showing players that have been inducted into the Hall of Fame tend to increase in value steadily. Cards featuring newer players may increase or decrease in value in the short term depending on their performance over a number of seasons. Additionally, negative publicity may decrease the demand for a player's cards. Obviously, the last two factors do not affect the value of cards showing legends who have died, and their value usually increases solidly.
Finding Baseball Cards on eBay
Baseball cards are listed in eBay's Sports Mem, Cards & Fan Shop. Search for players and card brands by entering the details of the card you want in the search box. Use the menus on the left side of the screen to refine your search by specifying the era, type of card, or other details required. Also check out the listings available from eBay Stores. If you cannot find the card you want, saving a search in My eBay will trigger an automated email notifying you when the item becomes available. Or, create a post in the Want it Now section to let sellers know what you're looking for.
Secure Shopping with eBay
eBay has a number of policies in place that protect buyers and sellers. These policies only apply to sales completed on eBay, so never move a sale off the site. A variety of convenient, safe payment methods are available. Never pay a seller via Western Union or MoneyGram transfers. Although improbable, should the item you bought fail to arrive, or arrive in a condition other than described, eBay Buyer Protection will refund your buying price and shipping fees. You can also ask the seller to insure expensive items before shipping.
Get to Know the Seller
eBay encourages buyers to leave detailed feedback for sellers after each transaction is completed and the item is received. Use this information, as well as the number of sales completed, to form your own opinion about the seller's service and products. Remember to review the terms and conditions of sale. Sellers often offer a money back guarantee or free shipping, while others have returns policies like regular retailers.
Before You Buy
Check the seller's accepted payment methods to make sure you can pay for the item easily and safely. Work out the item's total cost by adding the purchase price to the shipping and handling fees. Pay attention to every item's photos and description, including the small print, before buying. Use the "Ask a Question" link to ask the seller any questions you may have about the item. eBay's independent authentication and grading service allows buyers to get third party opinions about items before they buy. Additionally, check eBay's guidelines on autographed items. Do thorough research before you shop to get an idea of the item's current market value. The Beckett Standardized Value Guide to Sports Cards on eBay can be used to find the up-to-date market value of baseball cards.
Conclusion
A baseball card's value is influenced by the card's condition and grading, its rarity, and the player pictured. Guides like those published by Beckett Grading Services give clear indications of items' book values. Graded cards have been authenticated as part of the grading process, but one can request grading or authentication before buying rare or pricey baseball cards on eBay.