Greetings All,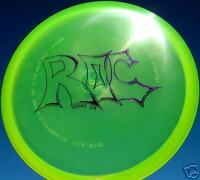 UPDATED - 06/06/08 - Well there seems to be an interesting development with regards to the 'overall satisfaction' as a result of the final distribution & sales of the 2008 Registered Official Collector Series ; aka USDGC ROCS -Talk is, all the Partners on the low end of the new partner/sponsor list are ecstatic for what they received - On the other hand, long time supporters are expressing some discontent in their ability to have been limited (1st time) to a 'strict' 25 total disc order limit. Hey, I'm just reporting the news ; I also must concur with what I'm hearing. Love the discs though ; cool new header card too ! JP & ZONEDRIVEN HAVE DONE IT AGAIN ON QUALITY
~~~~~~~~~~~~~~~~~~~~~~~~~~~~~~~~~~~~~~~~~~~~~~~~~~~~~~~~~~~~~~~~~~~~~~~

There has been some talk, concern, that golf discs as collectibles are mirroring that of the
beanie-baby-boom-bust. Upon hearing this analogy, I just about fell off my chair laughing.

Comparisons of the sports card market are surfacing with respect to golf disc's as well.

I thought it would be a good idea to address this for those that are wondering if
there is going to be a huge drop/correction in the prices of these disc's.

First of all the comparing golf disc's to beanie babies is completely absurd.
Golf disc's are the tools used, an integral part of a real, established sport that technically...
Is still in its infancy stage. Growing at a strong pace every year.
*SEE ((((Discgolf.com))))*

Early on, we all used the 'DX', or regular plastic & prices were really low & that was the market.
In 2000 we saw the introduction of the super durable Innova CE / Discraft Elite Z types. It didn't take long for people to realize that these disc's at the $15-$25 entry level were being accepted with 'open hands'.
Today, it is common to see player's throwing everything from 01' USDGC ROC's, $100+ TL's, 1st Run CE Valkyries, to 8,9, &10X Roc's, as well as a myriad of other golf disc's we know are valuable.

Before Nadine Larkin-Cosgrove moved to Florida, we used to raz her that she was throwing a $100 disc...
Not just any disc...A MINT... 2001 USDGC... CE ROC...
That was some year's ago...That same disc will now cost you more, in used condition.
Player's are no longer concerned when it comes to the cost/value of disc's they deem
'must haver's in the bag'...Nadine most certainly experienced a fair amount of winnings/dollars, & if asked would likely attribute a portion of those to her 01' CHAMPION EDITION ROC
2001 USDGC - BLUE CHIP BUY

It is a well known fact, many discs of high dollar value have been, & will continue be thrown regardless of the dollar's they can bring. As I previously stated, "player's today think nothing of throwing" an 8X Roc,
10X Rocs & Aviars, 1st Runs, 2nd, & other rare runs of CE Valkyries, TL's, Sidewinders, & YES even the $275-$300 ~ 01' USDGC CHAMPION EDITION ROC *(Pictured Above)*
I would venture to say, a minimum 5% of those have found there way into players hands & on to the course.
Everyone is aware a whole lot players have thrown all of the above mentioned golf discs....
***Many of them***
The number of used examples available on ebay proves a definite decline in the actual number of those that will be left in *MINT CONDITION*. The majority of these will still carry a noticeable premium in order to acquire one.
The thought here is,"actual examples of unused discs will continue to dwindle over the years", leaving a smaller availability to the collector market than is presumed :
In PRISTINE Condition : FACT !

There were a total of 1555 2001 CE Roc's made - OK & people always use these terms to express 'rarity' or production numbers ;
Yes this is important, however as Frisbee's / golf disc's become
collectible and rare, the real question to consider must be,
"how many are actually left" ? "In what condition" ?
Or what is the 'real availability' of a specific golf disc that is
highly coveted ? The vast majority are held in 'private collections'
& won't be seen on eBay anytime soon !

I would agree there 'could' be a major price correction if :

All of a sudden holders of these collectible disc's listed large numbers of them at the same time. Lets say tonight we all got on eBay to see wuzzzzzzz upppppppp - & to our surprise there were 15 - 07' USDGC 'Little Wings' listed. This would result in a market price

decline due ONLY to an immediate influx of supply.
I don't see that scenario playing out.
*((((SEE CChampionroc.com))))*

Eric (Guru) has correctly stated, "There is no question the economy and Christmas credit card bills/debt are forcing some to sell, while others just want enough money to buy their share of the new run coming out."
The guy knows what he is talking about !

I also feel we may be seeing a "softening" of the market right now with 'respect to certain disc's.' The economy, peoples personal financial situations may be, will be tested as we see how this whole thing unfolds throughout the rest of this year. Hey, thank goodness those of us that invested our money in plastic, have that asset, that ability to raise immediate funds if needed. It is also nice to know ; 'The Buyers' await with much liquidity, ready to pounce on specific collectible golf discs coveted by most ! With those ~ demand sharply exceeds supply & probably always will.
Let's touch on the supposed parallel to the sports card market :

Not a real good one as : Sports cards (especially the newer releases)
after 1990 Leaf were wrought with proliferation causing way more
supply than demand within that market.
Result ? The effect forces prices, as well as overall interest in to a downward spiral as tight as a Brady pass.

It is important to realize that the sports card industry is well known to have way too many manufacturers.
Topps, Fleer, Upper Deck, Donruss, Skybox, Leaf, Classic, shall I continue ?
You get the point.


During the 90's card companies were trying to "out do" each other by bringing out special short printed cards that were scarce in order to try and capture the market each year. They started with sub sets and 2nd, 3rd, and 4th series cards that would come out later in the year. Eventually that evolved into rookie sub sets, promo cards, die cut cards, parallel sets, motion cards, refractors, numbered cards, autograph cards, and just about anything they could think of to try and sell more cards.

This trend has continued up until today, with the "hot" new cards now being the autographed patch cards that have a piece of the players jersey in the card.
You can find cards with pieces of bats, balls, shoes, stadium seats, field dirt, all included in the cards. The running joke in the industry is that any day now they will come out with DNA cards that will contain a strand of hair from the player.... I wouldn't be a bit surprised if this actually happened.

Newer sports cards have turned into penny stocks and futures speculation.
Each year dealers stock up on the brand they think will be hot. They buy cases upon cases of the product, break it all down to pull out the rookie cards(all of the other base cards are basically worthless) and wait to see if the brand takes off. They run ebay auctions when the sell prices start to rise (and some of them really take off), then they laugh all the way to the bank as the cards fall in value over the next 5 years.

The only people making money in the new card market are the people that buy and sell quickly, and at the right moments. Sports cards (like anything else) are driven by supply and demand. The reason older cards did so well as an investment was that no one knew they would ever be valuable when they were collecting them. Kids only had one or two choices of companies to choose from. Most kids didn't take very good care of their cards, which reduced the supply of Mint cards. Nowadays the cards are made of much thicker cardboard and everyone knows you have to put them in a top loader to keep them in Mint condition. Graded (encased) cards are one of the newest trends in the market and will keep the cards in Mint condition forever.

Consider this : On ebay there are currently available for the (4) major sports + NASCAR - 141807 items found in: Football-NFL ~ 207328 items found in:
Baseball-MLB - 53059 items found in: Basketball-NBA ~ 64472 items found
in: Hockey-NHL ~ 6759 items found in: Racing-NASCAR ~ 1944 items found
in: Golf-PGA.
This is just in card offerings alone !

*The reason that market went into the tank.*

With collectible golf disc's, or disc's in general there are only several
manufacturers, two of which are recognized as having the lions share of the market & only one whose golf disc's are currently, always have been, & in opinion of 'TheFrizWiz' will continue to be viewed as Collectible, with many being realized as *Inve$tible also ! If you believe past history is any indication of the future, then certainly specific discs like USDGC ROC's must be considered a *****Solid Buy*****with strong upside potential for appreciation in both the short & long term.
Further more, "as long as production is not rampant & the Integrity within stated & Registered numbers is concrete", it stands to reason specific newer type releases should continue this positive trend.

Innova Champion Disc's is in the business of producing disc's for flying ; to be thrown. An off-shoot has been born in an effort to FUNdraise for events as well as charitable purposes as the sport has not yet landed a major sponsor to assist in pur$e funding. Without television, major advertisers the exposure level is just not there for this to happen - just YET anyway.

The inception of eBay has given individuals the ability to buy, sell , & even trade Frisbees ;

golf disc's from their homes - A market has been created there, which like it or not has given credence,
support & proof that larger numbers of people want these items. As a result : We are seeing a whole new breed of eBuyer 'newbies' of late which is a good sign for the overall market.
*Welcome to eBay Disc Golf*
Now let's touch on one of the primary reason's for all this excitement

USDGC ZONEDRIVEN CHAMPION (CE) ROC'S ~ A Decade of Excellence

TEN YEAR'S OF MAKING A REALITY ~ 'THE DREAM'
*SEE ((((Zonedriven.com))))*
*FOR ANOTHER REAL TREAT*
*GO ((((SeeRocCity.com))))*

Limited production has been key for these, which is the primary reason
they not only hold value, but continue to appreciate over the long term.
I just don't see this changing.
As most of you may know, Scott "Skeet" Scienski is the artist responsible for the awesome design on the 2007 USDGC Spectator ROC's introduced at the event last October.
This guy is way talented, passion packed in his creative drawing abilities. As a result, those 1000 "Skeet"CHAMPION ROC's sold out in record time.
Every last one of them...Gone !
SKWEET!
Well guess what ? Look out all ! Everyone can anticipate the following ; Scott is currently working on several designs for the 2008 *R*egistered*O*fficial*C*ollector*S*eries that are guaranteed to be absolutley astonishing ! Per 'Skeet' himself, "All the ROC themes this year are going to blow your mind"! Bank on it*
In addition to that, my crystal ball tells me, "the Champion Rancho ROC's" *themselves slated to be released in early spring are,
*************"going to be in a league of their own" !*************
Approaching the *10th Year Anniversary*
'The United States Disc Golf Championship', with the soon to be released 08'
Collector Series...look for more of the same thing.

Relative small production numbers (same as 2007) combined with *San*Marino Champion ROC's, the 2008's are going to be in

SHORT SUPPLY

Like I said with the 07's buy them quick, before they reach the $100-150-$200 level.

Many of you could have bought the Ontario's at the $70-100 level ; there are those that did.

If you look at the pricing on those today, they are selling for up-wards of $200.

If you're speculating, buying quickly during the 'initial' secondary market can still

be very profitable.

During the time of this writing, approx. 75 items were available for a : USDGC ROC. With an update here on 03/05/2008, that number is only 42 ! That includes any & all going back to 2001. Does the term RARE coincide with real availability for a MINT USDGC ROC ?
The demand on these is strong with opening prices ranging from $9.99- $19.99 ; many ending in the $50 to $everal hundred dollar range.

'Friz' - Word to the wise : "Force yourself to become more selective with key issues as a Collector/Investor.
It is all so easy to get caught up & find yourself in a buying frenzy with
the eBay thing. We have all done to some degree... I know I have.

A major market correction, or loss of interest I just don't see it. I will say that due to this country being in a recession that is likely to get worse before it gets better, there may not be as many people bidding items up as high as we have seen over the past several years.
But a total crash or following the downward trend like Beanie-Babies is unlikely.

A buyer softening of the market may result & I have seen signs of that.

Comparing collectible golf disc's to Beanie-Babies & the Sports Card industry is ludicrous.

Hope this helps your thoughts, concerns, & actions with respect to this subject.

In the end, my views are just my opinion...Of course no one truly has a crystal ball...These
are my thoughts & feelings going forward, and I will stay strong with them for now.

I will hold much of my collection & will be adding when the combination

of available funds, & buy opportunities present themselves. Hey it is also about the fun of
it all...Sometimes its about the chase... Sometimes the catch... Mostly about BOTH.

Happy hunting for those elusive, primo pieces of pla$tic that are out there waiting for you !

Spincerely
Kurt "TheFrizWiz" Lampkin #1471



PS - A fair amount of time & effort went in to this review/guide, so I am asking those of you that found it helpful ; to please click YES below. You may have to sign in to do so. Thanks