18/10 , 18/8 , OR 18/0 STAINLESS : DIFFERENCES AND BRANDS
18/10, 18/8, and 18/0 - These numbers refer to the combination of metals used in the manufacturing process.
The first thing consumers should know is that there is NO difference between 18/10 or 18/8. These products are exactly the same.
18/10
FLATWARE is comprised of 18% chromium and 10% nickel. Chromium resists stains, rust, corrosion and is an extremely strong solid metal in it's own right.
stain-resistant properties
stain-resistant properties
The nickel content adds to the luster of the product. This gives 18/10 (or 18/8) stainless a boost in shine and durability, but do not be fooled - durability and quality depends on the manufacturing process. Which makes choosing products so very important.
FACT: Quality stainless steel flatware brands whether 18/10 or 18/0; are capable of keeping a shiny, "like new" appearance quite possibly for a lifetime if cared for properly.
FACT: People do cook with their flatware occasionally... heating, stirring, etc. So durable are the higher quality brands, that this will not affect the finish.
FACT: Most restaurants use 18/0 stainless. And commercial dishwashers, which clean and disinfect flatware items that are used virtually over and over again. Yet when the table is set, it all comes down to quality.
Save $. Find a product that is as conservative or elegant as you are. One that can be employed for every day use as well as entertaining. Shown below is the 18/10 Reed & Barton Greenbriar collection, featuring a classic design appropriate for all occasions and moderately priced.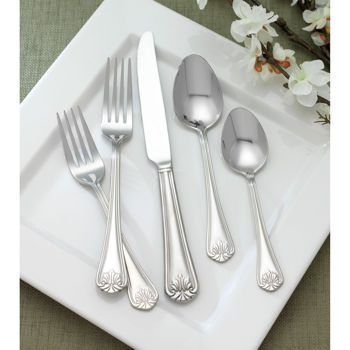 ABOUT 18/0
FLATWARE
18/0
means a product is manufactured of 18% chromium stainless steel, no nickel content. As stated previously, Chromium resists stains, rust, corrosion and is an extremely strong solid metal in it's own right. Which is why 18/0 is also a desirable choice in the flatware industry, whether for home or business. 18/0 is less expensive because there is no nickel content. Various companies offer 18/0 products as an alternative, passing the savings on to consumers. In light of that, one would expect these items to be a disappointment.
Actually, the answer is NO. Quality depends on the manufacturer - and the particular product. There are many 18/0 items on the market made of
superior
fine stainless steel that are every bit as good in performance and longevity as 18/10 products.
Rule of thumb: If you are purchasing a flatware set, only browse products from well known companies.
The brand name, reputation, customer reviews, and if possible - a "handling" test are good ways to assess craftsmanship. Just one of many popular 18/0 Reed & Barton flatware collections is Colby, as shown below. This ensemble features high customer ratings due to durability, continental sizing, and a modern versatile design.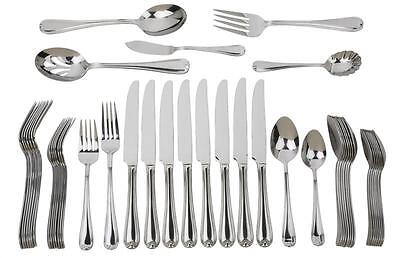 Another Reed & Barton product worth mention is Flora, as shown in the photo below. Originally a fine sterling silver pattern, Flora boasts an elegant ornate design. Due to popular demand, the company made this pattern available to the public in a limited edition 18/0 stainless steel version. Simply beautiful and of better quality, Flora would impress even the most discerning guests.
BRANDS OF CHOICE
Whether formal, casual, 18/10 or 18/0,
REED & BARTON
is an award winning company and the number one choice of consumers - internationally known for higher end quality fine and casual flatware products. We admit it. We are fans.
Reed & Barton offers collections for every taste and budget, from upscale/formal to casual everyday tableware boasting Continental and American designing. With unmatched superior craftsmanship and style trends, every product is manufactured to last a lifetime.
Below: Reed & Barton Queens Garden, a QVC (shopping network) exclusive. Nicer than shown here, Queens Garden features a bright silvery mirror polished finish and delicate floral pattern which makes it perfect for casual every day dining as well as special occasions.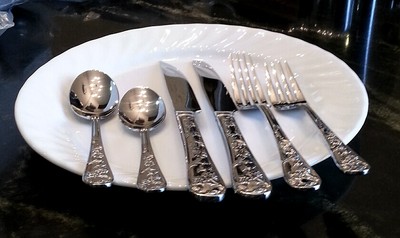 Did you know? Reed & Barton also manufactures flatware for fine tableware companies such as Mikasa and Waterford. As seen here: Mikasa. High quality with a simply beautiful timeless design.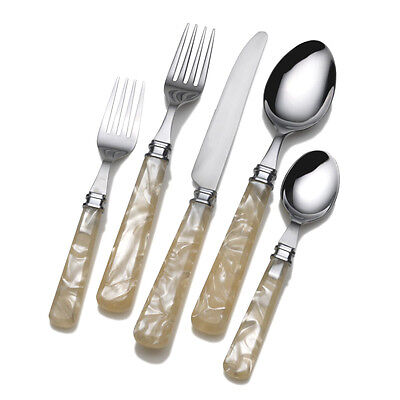 INTERNATIONAL SILVER
also has an excellent reputation. This company manufactures fine and casual flatware offering an array of products to suit any occasion. In addition, International Silver is the parent company of other well known brand names such as Pfaltzgraff, Rogers, Towle, and Wallace. All are now marketed through Lifetime Brands, Inc. with continued customer satisfaction.
A classic product is the Wallace American Tradition line. This pattern and similar designs have been in production for many years. American Tradition has mixed reviews, both positive and negative.
Many love the teardrop pattern and durability while others find it too lightweight as opposed to older Wallace products. After a handling test, we would say American Tradition is a sturdy medium weight and appears to be an all around
quality
18/0 flatware for every day casual dining as well as entertaining. Not flimsy in the least. The glossy shine is very nice too.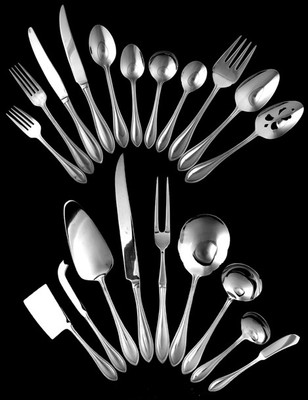 ---
GOURMET SETTINGS
This manufacturer receives rave reviews by consumers as well. Offering heavier weight European inspired designs (and we mean heavy) which include G.S. exclusive handmade patterns, Gourmet Settings has been called the "Ferrari of Flatware", and for good reason... as ALL merchandise is of unique high quality and virtually every pattern is suitable for everyday use as well as formal entertaining. Gourmet Settings flatware is the ultimate of modern design, durability, and strength. The spoons are strong enough to scoop even rock hard ice cream! We are impressed by the gorgeous modern "Chelsea" collection. The price cannot be beat for quality, durability, and appearance.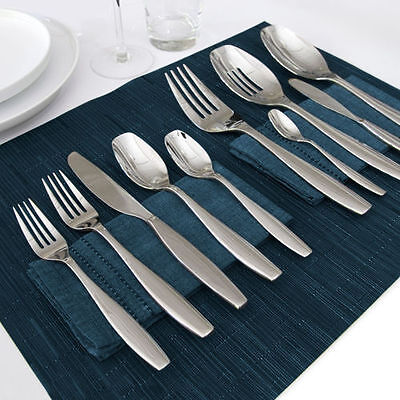 ---


AT QUESTION
ONEIDA
While this brand has been on almost every tabletop in America as well as around the world, BE AWARE that quality is the number one issue of recent ratings. Customers have become less than satisfied, especially with the expense in contrast to the poor quality of the company's newer collections.
Consumer comments from various sources state the following complaints:
"Cheaply made and lightweight"
"Lower in quality than other Oneida sets we've owned"
"This is supposed to be 18/10 but is flimsy and resembles low budget flatware"
"Michelangelo is a true disappointment for the expense"
"Older Oneida products were much better"
Oneida offers a patterns forever program, but they only carry limited items available as open stock. (Your pattern may or may not be available for purchase under this program).
For instance, if you have owned a Michelangelo set for years and wish to replace lost or damaged pieces... you may order that pattern directly from the manufacturer. However, the quality and workmanship of these newer replacement items leave much to be desired as compared to original products per reviews.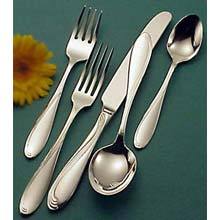 Shown: Camber; aka Scroll. This
was
one of Oneida's premiere fine flatware collections, also offered with gold accenting (Golden Scroll Camber) but discontinued in 1996. Elegant enough for formal occasions, with durability for every day casual dining. So very popular was this pattern that many of these sets were purchased as wedding gifts due to the quality and style.
Oneida simply doesn't offer merchandise like this anymore. :(
The same design as seen below has been more recently marketed - or shall I say passed off... as Oneida "Cresta" (Glossy finish 18/0) and Oneida "Satin Scroll" (Satin finish 18/0) in boxed sets. The stock photo make this flatware appear desirable, but be aware - it is JUNK.
No better than low quality budget flatware in comparison to the original. Much lighter in weight, the knives aren't serrated, and the craftsmanship is ridiculous. What has happened to the outstanding quality of Oneida? We do not know.