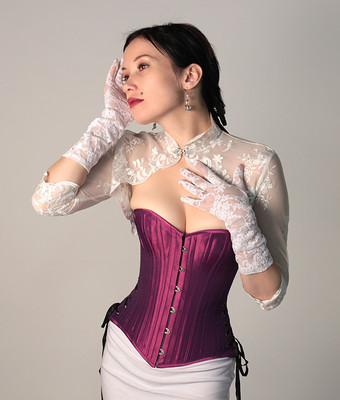 You've decided to take the plunge and buy a real waist training corset, but where do you begin? I'm sure you've already tried searching for a few and discovered the cheap sweat shop corset knock offs usually hailing from Asia with fake photos featuring what appears to be a well crafted garment for impossibly low bargain basement prices somewhere between $10-$50. Well, if it looks too good to be true then
IT IS
!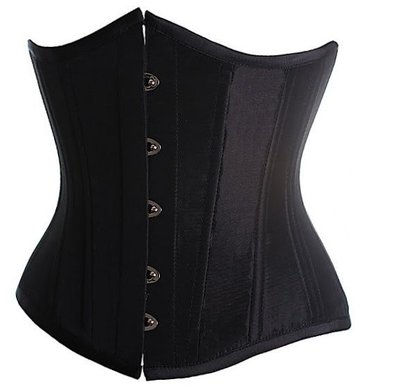 Although most of these corset knock offs claim that they are steel boned, they are generally polyester bodices with plastic bones. The actual product often does not in any way shape or form resemble the quality of the photo in the advertisement once you receive it. Some of these knockoffs are even made with a steel busk and/or steel boning, but the spiral steel is so thin and flimsy it does not serve the purpose of waist reduction through reshaping and molding your body over time like a real waist training corset.
Ideally, one would want a custom made corset if you are serious about waist training. Custom corsets can take between 15 to 50 hours of labor and range in cost from around $400 up to $1,000. However, there are ready to wear corsets which can work just as well without the large price tag. Ready to wear corsets are a great way for a beginner to learn how their body behaves and reacts to being in a corset, before making the investment in a custom made garment.
The devil is in the details and we are going to separate the wheat from the chaff as it pertains to purchasing an off the rack or ready to wear waist training corset. Below is a list of tips to keep in mind while shopping. When researching anything always remember
RIF
,
Reading is Fundamental!
10 THINGS TO LOOK FOR WHEN BUYING AN AUTHENTIC STEEL WAIST TRAINING CORSET
1. Multiple Photos of the Corset: You need to see as many views as possible including the front, side and back of the corset in order to determine the shape and curves of the garment and how it might fit you. Be wary of listings with only one or two photos, the corset construction is being hidden.
2. Photos Should be On a Model: Pictures of the corset on a mannequin or of only the garment against a background (see the picture of the black corset above) does not help you see the shape of the garment. Corsets are all about curves and their making. If we can't see it actually shape a human body then what is the point? If we all had mannequin measurements we wouldn't buy corsets.
3. Quality Fabric:
The fabric should look sturdy and smooth, it should not appear flimsy with bumps or wrinkles in the panels and bulging or lumpy seams.
4. Detailed Descriptions of Garment Construction:
If you read a listing which does not clearly provide you with important details like the number and type of steel bones, the content of the fabric lining, the presence of waist tape, etc. then you know you are dealing with a corset knock off.
5.
Steel Busk
- Look for a steel busk in the description of the corset, as they can stand up to the pressure created by drawing in your waist. Steel busks are stronger than zippers or hook and eye tape. They are metal hardware fasteners consisting of loops and knobs sewn inside the corset which open and close the center front of the garment (see the photo below).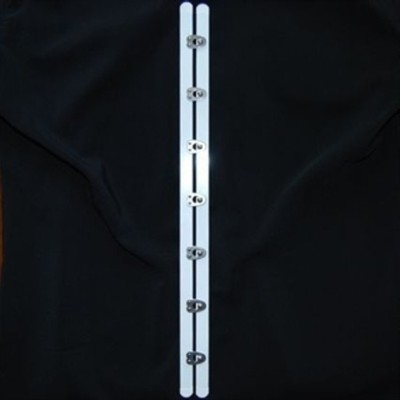 6. Steel Bones:
Steel boning in a waist training corset is an absolute
MUST
, spiral and flat steel bones are the foundation and secret to a corset's power to reshape and modify your body over a period of time. Spiral steel bones bend with the body. Plastic is simply unacceptable for anything except lingerie or a fashion corset top. Plastic bones will easily bend out of shape, break and render the garment useless in a relatively short period of time
.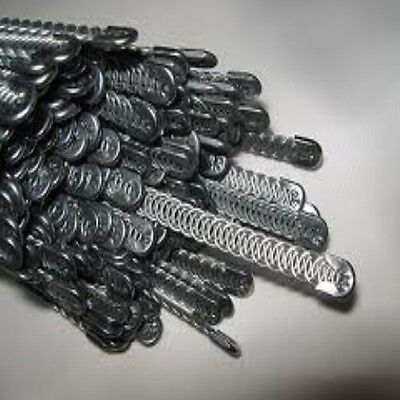 7.
Description Should List the Type and Number of Steel Bones
: An authentic waist training corset will have 20 or more bones because it needs to be sturdy enough to withstand being worn consistently over a long period of time in order to achieve waist reducing body modification. Steel boning flattens the waist while holding up the torso.
8.
Steel Boning Should be on Both Sides of the Grommets
: A sign of a higher quality waist training corset are the grommets placed in the center between two parallel steel bones/stays at the back of the corset. Positioning the bones this way provides extra strength and stabilization when lacing the corset. (See in the photo below, one bone is to the left of the grommets and another is at the right).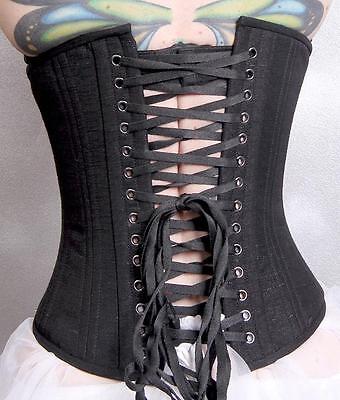 9. Waist Tape:
Either twill or coutil waist tape helps the corset withstand the pressure of shaping and prevents seams from ripping easily. Waist tape can be hidden between two pieces of fabric or visible.
10.
Cotton Inner Lining:
100% cotton is comfortable against your skin while allowing the corset to breathe. It also provides stabilization by adding an extra layer of strength which prevents the corset from stretching too much.