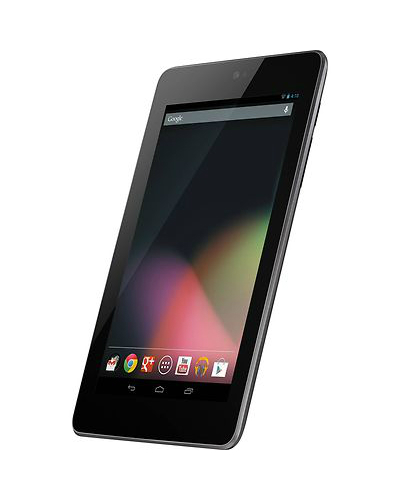 Part of the Nexus lineup of mobile devices, Google's Nexus 7 tablet delivers portability and functionality. With a long battery life and 7-inch high-resolution screen, it is an ideal choice for people who are always on the go. Buyers have a few options when choosing one of these Google tablets, which are powered by the open-source Android OS. However, Nexus 7 owners also need to take into account how they can make the most of the tablet. Google Play has an enormous selection of apps available for the Nexus 7, ranging from media and social apps to those focused on productivity. The best choices in productivity apps depends on individual user preferences but as a rule they should simplify life for the user. They should also add to the functionality of the tablet.

Understanding the Nexus 7
The Nexus 7 is built by ASUS for Google. It runs Android 4.2, or also known as Jelly Bean, powered by a quad-core CPU. It has a smart design that boosts processor performance when needed but automatically adjusts to maximize battery life. The screen is bright and crisp, which makes it just as good for gaming and media as it is for getting work done on the go. The chart below breaks down a few key features of the Nexus 7.

Screen Size

7 inches

1280x800 pixels

216 pixels per inch

Battery Life

8 hours of HD video

10 hours of web browsing

Storage Capacity

Camera

front facing (1.2 MP)

Dimensions

7.8 inches (height)

4.7 inches (width)

0.4 inches (depth)

Weight

12 oz (approximate)

RAM

1 GB

Processor

NVIDIA Tegra 3

The 7-inch screen on the Nexus 7 is an IPS HD display ideal for gaming. The tablet also has a gyroscope and accelerometer. It even boasts a Gesture typing feature so users just need to glide their fingers over the keys. Predictive text input makes typing even easier.
Connectivity
Connectivity on a tablet is important, and the Nexus 7 is no exception. The tablet has a microUSB port, built-in 802.11 b/g/n Wi-Fi, Bluetooth, and Android Beam capabilities. The 8 GB and 16 GB models are equipped with Wi-Fi only, but with 32 GB models you also have the option of choosing HSPA+ data service, allowing the device to connect to 4G and 3G networks.

Productivity Apps
Productivity apps make using a tablet, and life in general, much simpler. Some are designed to handle word processing and other document-related tasks, while some make it easier to organize and share information, keep track of tasks, or stay in contact with people all over the world.
1. QuickOffice Pro HD
Considered the best office suite for the Android platform by LifeHacker, QuickOffice Pro HD is compatible with Microsoft Word, Excel, and PowerPoint files. It also lets users mark-up Adobe PDF files. The app syncs with cloud storage and lets users search the tablet and select cloud services at the same time. It has an intuitive interface with features such as multi-touch capabilities and flick scrolling. QuickOffice Pro HD makes sharing files via select social sites easy.
2. Evernote
A Google Play Editor's Choice app, Evernote syncs across multiple devices so the information users save is always accessible. Evernote lets users take notes in several formats, using text, audio, video, documents, and more. The notes are easily organized and searchable so they can be referenced later. Evernote also enables sharing of notes, so users can collaborate with others and share information as needed, whether for work or personal purposes.
3. SwiftKey
Although the Nexus 7 has an intelligent keyboard design, SwiftKey is designed to replace the on-screen keyboard for the tablet and other Android devices. It is a top-selling app in Google Play in multiple countries. SwiftKey has an incredibly accurate predictive text feature, one that learns words based on the way you write and type. It can even learn from a Gmail account and social networks. Best of all, the keyboard is customizable so users can tweak it to suit the way they type and the size of their hands.
4. DroidEdit
Android Authority lists DroidEdit as an essential productivity app for the Nexus 7, and Ars Technica also lists it as a must-have app for Android. As a text editor, it is compatible with DropBox and most text files. Apart from that, the app is also a source code editor with support for several source files and script formats. It works with HTML, PHP, .js, and .sh, among others. It has syntax highlighting for multiple languages, including Java, CSS, and Python. Beyond that, color coding and multiple color schemes increase usability.
5. Pocket (Read It Later)
Another Google Play Editor's Choice, Pocket (previously known as Read It Later) helps users collect articles and other information for reading later. A great choice for people who are frequently inundated with news articles to keep up on, Pocket lets them collect articles on multiple devices. It syncs all the articles so users can access them on any device, even without an Internet connection. The layout for the app is simple and easy to read. Plus, the app makes it easy for users to share articles and save articles from other contacts.
6. CamScanner
A top Android productivity app according to Business Insider, CamScanner converts the Nexus 7 into a document scanner. It uses the camera to take pictures of invoices, receipts, business cards, certificates, and other documents and turn them into searchable PDF files. The documents CamScanner creates also can be edited. Furthermore, the app lets users organize the documents as needed, and can share them with other users via Wi-Fi, document links, and even fax. Some cloud services are also compatible with CamScanner, including DropBox.
7. Any.do
Another top choice of Business Insider, Any.do is a to-do list manager that syncs with the cloud so users can access their lists anywhere. With a simple but beautiful interface, the app makes it easy for users to create task lists and keep track of progress. Any.do also supports voice memos and converts them into text for virtually any language. The app can remind users of upcoming events and tasks, make memos of missed calls, and share lists. It also lets users organize their tasks and lists in ways that make sense to them, which is perfect for the hyper-organized person.
8. Skype
One of the top VoiP providers, Skype is the best way to manage contacts from all over the world. A messenger program, voice service provider, and video chat client, Skype allows for free communications between users on any platform. However, users can also call landlines and cell phones all around the world for set rates and even share files. On a cell phone, the Skype skype can prevent users from going over their cell phone minutes or text messaging limits. It also makes calling people in other countries more affordable, or even free.
9. DropBox
A leading cloud storage service and one of the best Nexus 7 apps according to CIO, Dropbox is a convenient way to access document, videos, photos, and other essential files anywhere. It also lets users share files with others, which can be essential in work environments. Files can even be added to the cloud directly via email. Beyond that, Dropbox enables document editing though some other productivity apps, such as QuickOffice, work with Dropbox for additional capabilities.
10. SplashTop
Winner of a Best of CES 2012 award for Best Mobile App, Splashtop enables users to remotely stream their desktops and access files. The entire SplashTop suite gives users access to a host of content on the go. For individual users, SplashTop Personal is the ideal choice, while SplashTop Business is more focused on office productivity. SplashTop works on Windows and Mac computers, offering 100 percent compatibility with any software installed on the desktop or laptop.

How to Buy a Nexus 7 on eBay
eBay is a great place to shop for tablets, including the Nexus 7. You can choose from new, used, and refurbished models. Do not forget to pick up accessories such as a case, an extra charger, and screen protectors. Always check your seller's feedback history before you buy, as this is the best way to ensure that you are dealing with a reputable seller. You should also be on the lookout from offerings by Top-Rated Sellers, who have a consistent track record of great customer service.
Starting Out on eBay
Familiarizing yourself with eBay before you shop can make the process easier. Start by registering for an account, and then head over to the eBay Customer Support Center. You can find great resources such as Buying Basics and Choosing a Payment Method. Before you browse, sign into your eBay account so you can save searches, save sellers, communicate with eBay members, and much more. My eBay is the hub through which you manage your account.

Conclusion
The Nexus 7 is a Google-powered tablet made by Asus. With a 7-inch screen and long battery life, the tablet s a great choice for people who are always on the go. The Nexus 7 has several options for storage capacities and connectivity. But more importantly, it has a host of downloadable apps for productivity. Choose from an office suite such as QuickOffice Pro HD or a simple text editor such as DroidEdit. You can also enjoy cloud storage via Dropbox, enhanced typing with SwiftKey, easy management of documents and web articles with CamScanner and Pocket, and much more. Shop eBay to find your own Nexus 7 tablet and find out just what the device can do by loading it up with productivity apps.