Perfect for Home!! Free Shipping within 48 US States


"NEW" Dyson AM01 Air Multiplier 10" Bladeless Table Fan - Blue
2-Years Dyson Manufracturer Warranty
Not Refurbish, Not Recertified
In Stock ~
Free Shipping

(48 US states only)
~
Free Insurance
~ Free Tracking!!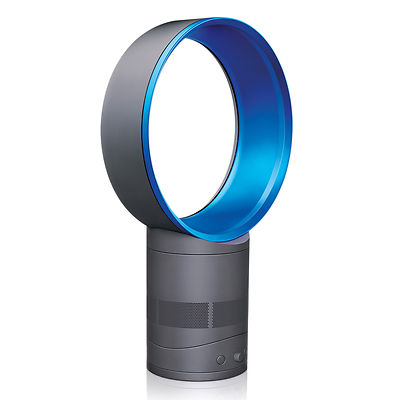 Item description: This item is Brand New in Factory Retail Box wtih all accessories. It comes with 2-Year Manufracturer Warranty.
Conventional fans have blades which chop the air before it hits you, causing unpleasant buffeting. AM01 doesn't have blades. Instead, it uses Air Multiplier technology to amplify the air drawn in at its base by up to 15 times, generating an uninterrupted stream of smooth air. No blades. No buffeting. With no fast spinning blades, AM01 is safe to use around children. It's easy to clean, too. And because it makes you feel cooler, you can turn down your air conditioning. The 10-inch Dyson Air Multiplier fan is available in White/Silver or Iron/Blue.
Patented Dyson Technology
Dyson engineers are constantly testing and inventing, trying to find new ways to make their technology work better. As they work, they file patent applications to protect their inventions. That's why the only place you'll find Dyson technology is inside a Dyson machine. Dyson fans use Air Multiplier technology to amplify surrounding air.
How The AM01 Works:
Up to 5.28 gallons of air are drawn in per second by an energy efficient brushless motor. A combination of the technologies used in turbochargers and jet engines generates a powerful flow of air.
Airflow is accelerated through an annular aperture. It passes over a 16-degree airfoil-shaped ramp, which channels its direction.
Air behind the Dyson Air Multiplier fan is drawn into the airflow, through a process known as inducement.
Air around the machine is also drawn into the airflow, through a process known as entrainment, amplifying it by up to 15 times. The resulting airflow is smooth and constant, with no unpleasant buffeting.
Features
Smooth airflow:
The blades on conventional fans cause unpleasant buffeting because they chop the air. Air Multiplier technology creates an uninterrupted stream of smooth air.
No fast spinning blades:
Because there are no fast spinning blades, AM01 is safe to use around children. And with no blades or grilles it's easy to clean too.
Touch-tilt:
The machine can be tilted to direct air where you want it. The motor is positioned in the base, so the machine pivots on its own center of gravity and stays put without clamping. It's not top heavy or unstable like conventional fans.
Dimmer-Switch Control:
The airflow generated by the Dyson Air Multiplier fan can be adjusted at the turn of a dial to precisely deliver the amount of air that you want.
Smooth Oscillation:
The Dyson Air Multiplier fan oscillates 90 degrees at the touch of a button.
2-year parts and labor warranty:
All Dyson machines undergo a lengthy and rigorous testing program. That's why Dyson Air Multiplier fans include a 2-year warranty covering parts and labor.
What's In The Box?


Fan base unit


Circular loop


Operating manual

Paypal
& all Credit Card payment through Paypal.
Will only ship to Paypal Confirmed address.
Auction for serious bidder only.

Payment must be receive within 48 hours for both Buy-it-Now and Auction item.

Item usually ship within 1~2 business days (excludes weekend) via USPS or Fedex/UPS (
No Fedex/UPS Service for
P.O Box, Surcharge apply for AK, HI, PR & other U.S. Territories
)
D

elivery within:
East Coast:
2~4 Business days
West Coast:

4~7 Business days
International Shipping: usually ship within 1~3 business days (excludes weekend) via United States Postal Service (USPS) EMS, Express Mail, & Priority Mail. Additonal processing time may require for Russia & Asia.

We only accept return for replacement for items that are DOA, all DOA must be reported immediately on the day of delivery or within 48 hours. All warranty issues must contact manufacturer for coverage. We do not handle warranty issues since we are not end user. However, we will do our best to assist you.

We are reseller base on PA&NY. We sells on ebay for seven years with numerous satisfied buyers. Customer satisfaction is our #1 priority goal.We are an honest and trustworthy seller as our feedback reflects. Our goal is to provide you,the customer,with excellent products at great prices. All of our items are genuine, brand new, and factory sealed unless otherwise stated. We do not sell knock offs or import items. We would not sell you anything less than what we would buy for ourselves. For some item,
UPC might has been removed for promotion purpose.

If you have any questions regarding on any of our item, please do not hesitate to contact us. We will get back to you as soon as possible.