We recommend using Internet Explorer 9 (or other standard browsers) to get the best experience on this site.
Dripping in Jewels
Collection popularity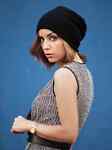 I've always been a girl who loves to accessories. While I go through many fazes ~ sometimes I like big, statement jewelry and sometimes I like delicate, dainty pieces ~ I can honestly say there is not a day that I walk out my door without at least 5 pieces on, and that's on a light day. I see my jewelry as a lifelong collection. Even if I haven't worn a piece in YEARS, I love to look at it and remember the times we had together and the stage of my life I was in when I couldn't get enough of it. Also, you NEVER know what will come back in style! Sometime a piece that has been retired for ages is just the perfect thing for an outfit. So my jewelry is a constantly expanding collection of memories and pieces that I can't wait to join me for my adventures to come. The items in this collection would be right at home in my jewelry box!
List of items in this collection
Loading more items...
How can we make this page better for you?